Glutathione is a tripeptide composed of three amino acids, namely: glutamate, cysteinc and glycine, and is a non-protein low molecular weight thiol. GSH is mainly divided into two forms: L-Glutathione Reduced and L-Glutathione Oxidized.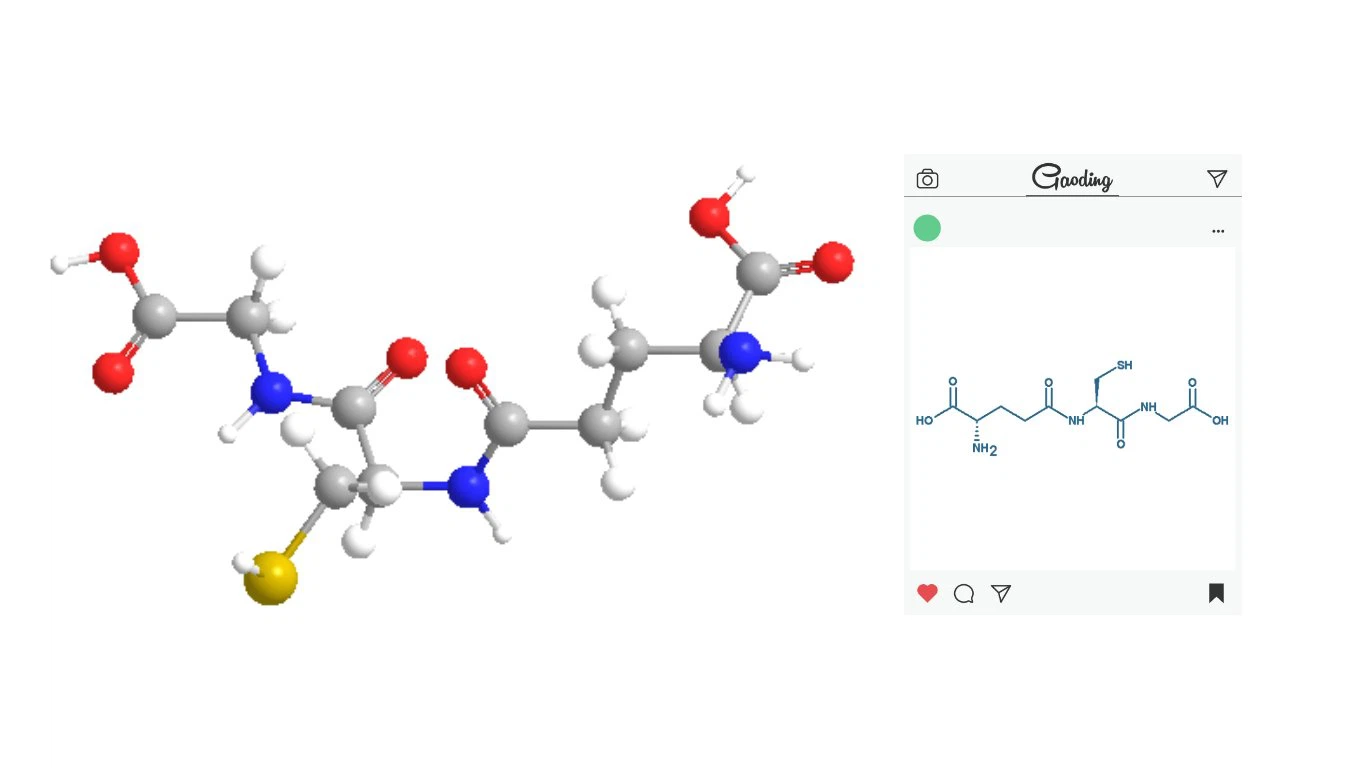 Product description of L-Glutathione Reduced powder:
L-Glutathione Reduced(C10H17N3O6S)

CAS NO.

70-18-8

Appearance

White or almost white powder

Assay

99% min

Chlorides

Not more than 200 ppm

Sulfates

Not more than 300 ppm

Ammonium

Not more than 200 ppm

Iron

Not more than 10 ppm

Arsenic

Not more than 2 ppm

Heavy metals

Not more than 10 ppm

Cadmium (Cd)

Not more than 1 ppm

Lead (Pb)

Not more than 3 ppm

Mercury (Hg)

Not more than 1 ppm

Sulfated ash

Not more than 0.1%

Loss on drying

Not more than 0.5%

Shelf Life

Two years when properly stored.
What is L-glutathione reduced powder used for?
Glutathione accounts for the vast majority in the form of reduced glutathione under physiological conditions. It is not only the prosthetic group of glyceraldehyde phosphate dehydrogenase, but also the coenzyme of glyoxalase and triose dehydrogenase. Various enzymes, such as sulfhydryl (SH) enzyme-coenzyme, etc., thereby promoting carbohydrate, fat and protein metabolism. L-glutathione reduced powder is widely used, mainly for cosmetics, health care products and medicines.
Skin care field
Glutathione is well known for its benefits as a skin care product. As an antioxidant factor, GSH is actively oxidized by free radicals, converted into inactive GSSG, and degraded by macrophages, thereby protecting the integrity of cells. Not only that, glutathione also has its own unique mechanism of action against melanin, which can block the activity of tyrosinase and achieve whitening effect from the root. In addition, it has a repairing effect on damaged cells, improving the delicateness and smoothness of the skin.
Glutathione is also the main ingredient in some whitening medical beauty products. In addition, whitening medical beauty products are mainly made of glutathione, hyaluronic acid and other products in scientific proportions. It generally has the functions of whitening, anti-oxidation and inhibiting melanin.
About us
GSH BIO-TECH is an innovative high-tech enterprise with enzyme catalysis technology in the field of synthetic biology as the core and cross-application of multidisciplinary technologies.The company's main products are glutathione (GSH), β-Nicotinamide Mononucleotide and Citicoline sodium (CDPC), Should you have interests in us, please don't hesitate to get in touch with us,we will be pleased to supply any further information you require.
Product Line

QUALITY CONTROL
We have QC team to gurantee the quality. All products must have been inspected before delivery.we do inline inspection and final inspection.
1.All raw material checked once it arrive our factory.
2.All details checked during production.
3.All packing details checked during production.
4.All production quality and packing checked on final inspection after finished.
FAQ
Q: Are you trading company or manufacturer?
A: We are professional manufacturer specialized in active pharmaceutical ingredients products. And we trade our products with our clients directly.
Q: Can you do OEM and ODM?
A: Yes, OEM and ODM are both acceptable. The purity, mesh, packing can be customized, the basic quantity we will advise after we discuss.
Q: Can we use our own logo?
A: Yes, we can print your private logo according to your request.
Q: What is your term of payment?
A: 100% T/T in advance.
Q: Which payment form you can accept?
A: T/T, Western Union, PayPal etc. We accept any convenient and swift payment term.
Q: Which certificate do you have?
A: BRC, ISO9001, HALAL, Kosher, FSSC, HACCP, FDA.