Alpha-lipoic acid was derived from the discovery in 1937 by scientists Snell et al that some bacteria needed a compound in potato extract to grow. After a few years, the growth factor was isolated, which is lipoic acid.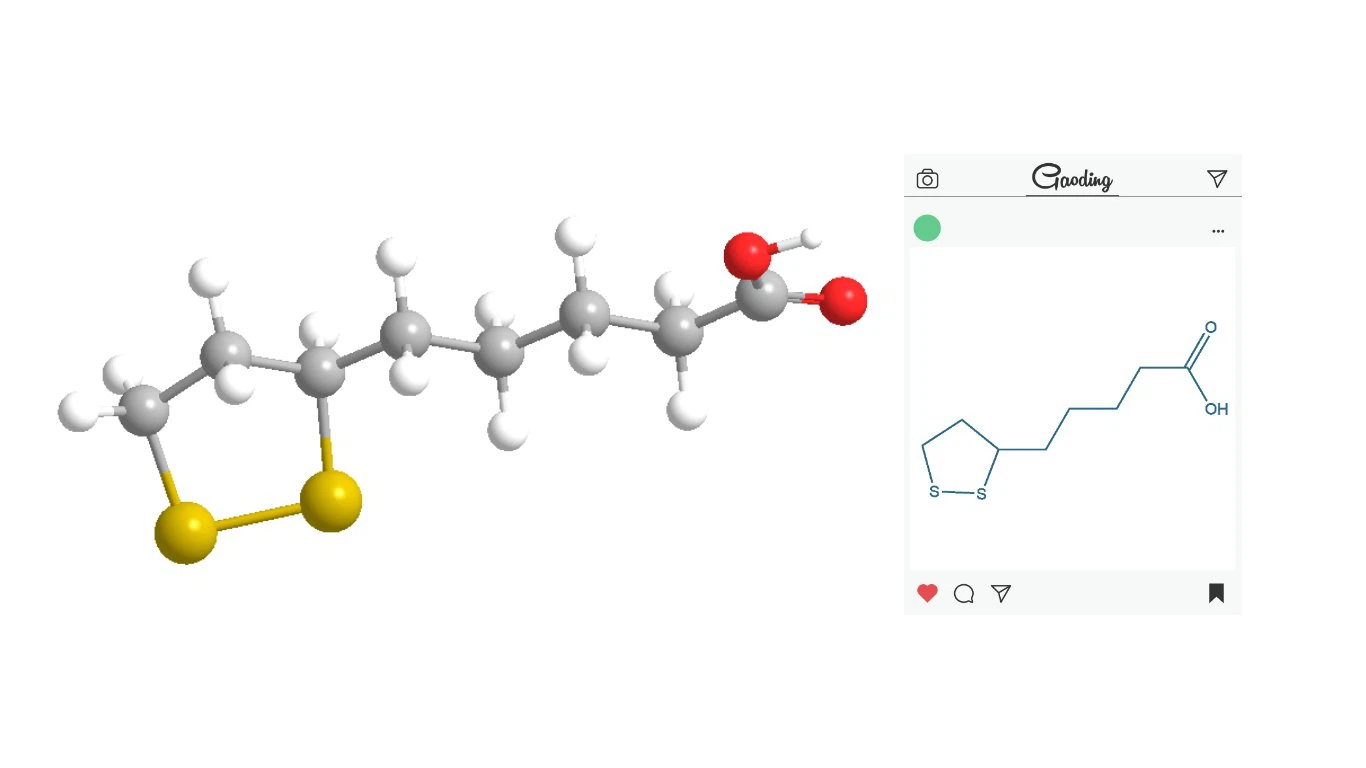 α-Lipoic Acid(C8H14O2S2)

CAS

1077-28-7

Appearance

Light yellow crystalline powder

Assay

≥98.0%

Loss on drying

Not more than 0.2%

Heavy Metal

Not more than 10ppm

Application

Raw material、medicine

Shelf Life

24 months when properly stored.
In recent years, it has been found that lipoic acid is a cofactor involved in the energy production and catabolism of granulocytes, and is closely related to glycolysis and citric acid cycle.
In addition to this, lipoic acid is a powerful antioxidant, and its potential functions include the following
(1) Inhibit reactive oxygen species
(2) Regeneration of exogenous and endogenous antioxidants such as vitamin C, E, glutathione
(3) Chelation of metal ions
(4) Repair of oxidized proteins
(5) Gene transcription regulation
(6) Inhibit the activation of nuclear factor kapp B (NF-kB)
1. Lipoic acid is beneficial for blood lipid regulation
Dyslipidemia is defined as an increase in fasting total cholesterol, which may also be accompanied by an increase in triglycerides.
Dyslipidemia is associated with a range of health problems, including obesity, insulin resistance, and cardiovascular disease. Associated risk factors include: smoking, obesity, sedentary lifestyle, excessive intake of saturated fat, and intake of foods high in trans fat.
A systematic literature review and meta-analysis (11 controlled clinical trials with 452 adult participants) found that alpha-lipoic acid supplementation significantly reduced triacylglycerol, total cholesterol and low-density lipoprotein levels, but No significant effect on high-density lipoprotein.
2. Lipoic acid is good for blood sugar control
Diabetes mellitus is a metabolic disorder characterized by hyperglycemia. According to the ability of pancreatic cells to secrete insulin, it is mainly divided into insulin-dependent type 1 diabetes (insufficient insulin secretion) and non-insulin-dependent type 2 diabetes (insufficient peripheral tissue insulin sensitivity and glucose uptake).
A systematic literature review and meta-analysis (28 placebo-controlled trials with a total of 1016 participants) indicated that lipoic acid supplementation significantly reduced serum insulin and HOMA-IR, but not glucose or HOMA-IR. HbA1C had no significant effect.
In addition, the timing of lipoic acid supplementation was dose-dependent with insulin changes.