Jun 05, 2023 / Author: China Glutathione suppliers & NMN manufacturers
A recent study in the journal Cell Stress & Chaperones showed that NMN supplementation attenuated mitochondrial damage in osteoblasts and attenuated osteopenia induced by simulated microgravity.

Exposure to weightlessness in astronauts is known to cause severe osteopenia, which increases fracture risk. Scientists are constantly seeking new drugs to restore bone density and strength to astronauts after spaceflight.
To simulate the effects of spaceflight on bones, the researchers used a method used by NASA researchers -- hindlimb unloading. Using this technique, they suspended the mice by their tails so that their hind limbs did not touch the ground. This process allowed the researchers to measure how bone mineral density (a marker of bone structural strength) is affected when the bone is underused.
The study showed that after 4 weeks of hindlimb unloading, the rats showed a significant decrease in bone mineral density, suggesting subsequent osteopenia and concomitant bone fragility. Interestingly, when NMN was injected intraperitoneally every three days, the rats showed recovery in bone density. These findings suggest that NMN can rescue osteoporotic bones during spaceflight (during microgravity), and although bone NAD+ levels decreased in a microgravity rat model, NMN replenished bone NAD+ in this animal model. In addition, NMN reduced bone levels of malondialdehyde, a marker of oxidative stress. These findings suggest that NMN can not only restore bone density and NAD+ levels, but also attenuate oxidative stress damage to bone.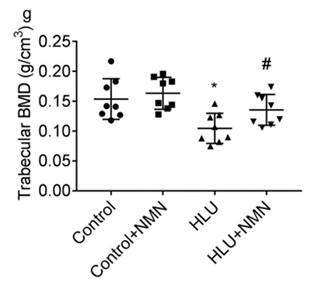 ▲NMN restores bone mineral density in a microgravity rat model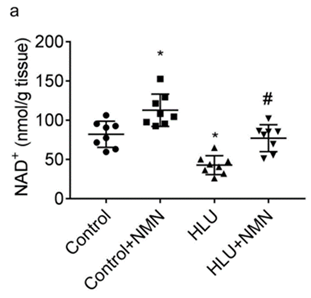 ▲NMN supplements bone NAD+ under spaceflight microgravity conditions
Because of the strong safety profile of NMN supplements, it is promising that these results translate successfully to the possibility of astronauts traveling in space.
Supplier Introduction: China glutathione supplier and NMN manufacturer GSHworld, the company mainly develops biotechnology and industrialization. As a global pioneer in enzymatic catalytic ATP regeneration technology, our company advocates green production and is committed to providing customers with better and more environmentally friendly products and services. Glutathione Manufacturer,NMN Factory,Citicoline Sodium supplier,China NMN manufacturers