Jun 05, 2023 / Author: China Glutathione suppliers & NMN manufacturers
As a natural nucleoside, adenosine is an intermediate product of body metabolism and one of the important active ingredients in the body.
Years of research by the Japanese company Shiseido has also found that it can stimulate hair growth, promote the FGF-7 factor and produce thicker hair. It also has the main feature of acting directly on dermal papilla cells, which play an important role in the growth of new and existing hair. The efficacy of adenosine in hair regrowth has been demonstrated in clinical studies.
A double-blind randomized and placebo-controlled study in 2008 was conducted on 30 Japanese women with female pattern hair loss. The researchers created two groups in which some volunteers received a solution containing 0.74 percent adenosine, while the other group received a placebo solution. The treatment lasts 12 months and the results are evaluated with the help of photogrammetry and dermatologists.
The group using adenosine had significantly better outcomes than the placebo group. Solutions containing 0.74% adenosine increased anagen hair growth and increased hair shaft diameter.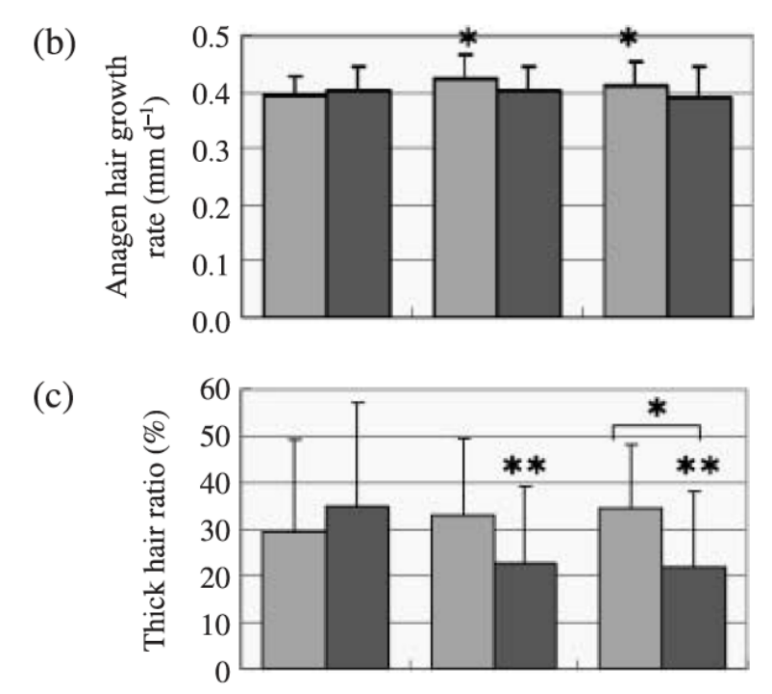 The light color in the figure is the picture of topical 0.75% glandular product, and the dark color is the placebo control group.
The experiment showed that after using the products containing adenosine for 6 months and 12 months, the hair growth rate (b) and the proportion of coarse hair (c) in the anagen period were significantly increased compared with the placebo group.
A randomized controlled trial in 2015 evaluated the efficacy of a 0.75% adenosine solution in inducing hair growth in 102 Japanese men.
The study adopted the Ogata classification method and included 102 male patients with grade II or IV androgenetics. After 6 months of external application of adenosine solution twice a day, the proportion of patients in the adenosine group and the control group (0.1% nicotinamide solution) improved 80% and 32%, respectively; the proportion of coarse hair in the adenosine group was significantly higher than that in the control group.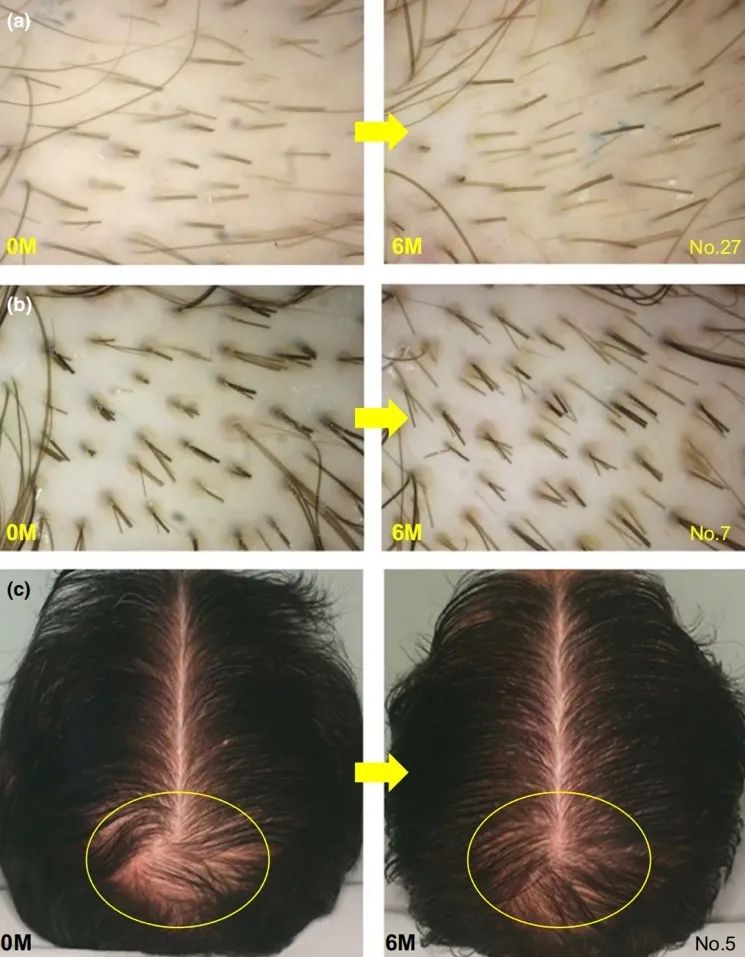 Left: The change of local hair before and after treatment, the arrow shows that the hair is obviously thicker.
Right: Before and after photos of typical test subjects, a shows very obvious improvement, b shows obvious improvement, and c shows improvement.
It is believed that in the near future, adenosine raw materials will shine even more brilliantly in the field of anti-hair loss and hair growth.
We supply high quality Adenosine and Adenosine Disodium Triphosphate raw materials, if you are interested in our products, please feel free to contact us, we will be happy to provide any information you need.
Supplier Introduction: China glutathione supplier and NMN manufacturer GSHworld, the company mainly develops biotechnology and industrialization. As a global pioneer in enzymatic catalytic ATP regeneration technology, our company advocates green production and is committed to providing customers with better and more environmentally friendly products and services. Glutathione Manufacturer,NMN Factory,Citicoline Sodium supplier,China NMN manufacturers