Sep 16, 2022 / Author: China Glutathione suppliers & NMN manufacturers
Recently, a research team investigated the effect of glutathione (GSH) in reducing hypothermic stress. Tomatoes were studied for low temperature tolerance by evaluating different physiological responses. The specific goal of the evaluation was to select the optimal concentration of GSH with antioxidant potential at low temperature (LT) in exogenous applications.
Under abiotic conditions, GSH is responsible for controlling multiple physiological responses in plants, and in this study, GSH was found to combat cold stress by enhancing antioxidant mechanisms, biochemical properties, photosynthetic parameters, and growth characteristics. LT stress has significant effects on plant growth and developmental processes. Plant growth is affected by LT. It triggers a series of physiological, biochemical and morphological changes that limit plant productivity. In this study, LT resulted in reduced seedling growth accompanied by significant chilling damage, and there may be many reasons for the stunted plant growth under LT stress, such as ROS generation, improper nutrient uptake, and osmotic imbalance. However, GSH-treated LT (GSH + LT)-stressed seedlings were better able to counteract the adverse effects of LT.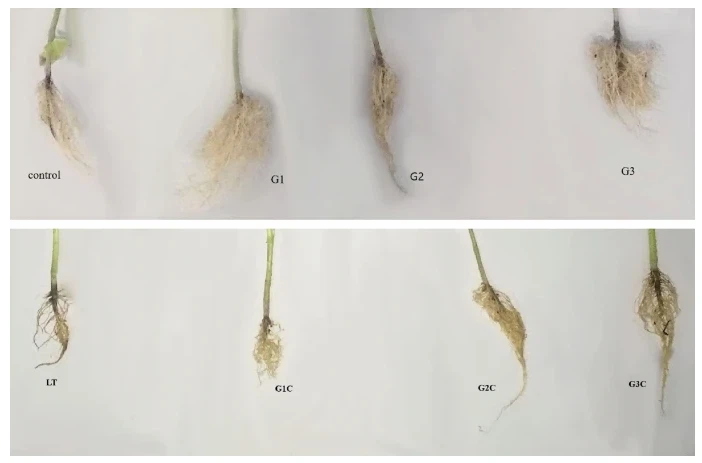 Changes of root morphology under low temperature stress and different GSH concentrations. Control (Con): 25/18 °C + 0 mM GSH, Low Temperature Stress (LT): 10/3 °C + 0 mM GSH, G1: 25/18 °C + 0.5 mM GSH, G2: 25/18 °C + 1 mM GSH, G3: 25/18 °C + 2 mM GSH, G1C: 10/3 °C + 0.5 mM GSH, G2C: 10/3 °C + 1 mM GSH, G3C: 10/3 °C + 2 mM GSH.
The progressive role of exogenous GSH in controlling growth, development, and yield under abiotic stress has been reported in Arabidopsis mung bean and soybean. This study also showed that GSH treatment was protective in mitigating the toxic effects of LT on tomato growth and development. Osmo-regulators and antioxidants have been reported to have well-defined roles in conferring tolerance to abiotic stresses, such as salt stress. Furthermore, the uptake surface area of roots was significantly higher in GSH-providing plants than in control and LT plants.
Exogenous supplementation of GSH alleviated LT stress. The G2 concentration has great potential to counteract LT stress. Several ways in which GSH encounters LT stress can be summarized as follows.
1. Maintain osmotic balance and membrane integrity.
2. The activities of antioxidant enzymes such as CAT, GR, APX and SOD are enhanced.
3. Promote growth and development by adjusting root tolerance index, shoot tolerance index, fresh weight and dry weight of plants.
4. GSH helps to increase the rate of photosynthesis.
5. Improve the efficacy of gas exchange parameters such as stomatal conductance, transpiration level and water use efficiency.
6. Progress in stress tolerance index compared to LT-stressed plants.
7. As seen under G2C treatment, the LT stress bearing trend depends on a favourable interaction between stomatal conductance, photosynthetic rate and transpiration rate.
8. The most significant G2C concentration of exogenous GSH may have a potential role in increasing GSH redox and inhibiting ABA-mediated signaling in Solanum solani cultivars under LT stress.
Supplier Introduction: China glutathione supplier and NMN manufacturer GSHworld, the company mainly develops biotechnology and industrialization. As a global pioneer in enzymatic catalytic ATP regeneration technology, our company advocates green production and is committed to providing customers with better and more environmentally friendly products and services. Glutathione Manufacturer,NMN Factory,Citicoline Sodium supplier,China NMN manufacturers