Sep 09, 2022 / Author: China Glutathione suppliers & NMN manufacturers
Although NMN has been fully demonstrated in animals as an anti-aging agent, there are few clinical studies in humans. In order to make up for the clinical related vacancies, the Japanese research team found in an experiment last month that long-term oral NMN supplementation can effectively improve the arteriosclerosis in middle-aged people. The article was published in the sub-journal of "Nature".

The researchers recruited 36 healthy middle-aged people aged 35-49 and asked them to take two (125 mg) NMN capsules orally twice a day. After 12 weeks, the metabolic capacity of the subjects in the body was effectively improved. increased, and the pulse wave velocity was significantly reduced, proving that NMN has the potential to alleviate arteriosclerosis.
In addition, there were no adverse events in both men and women, so it appears that the daily intake of 250 mg of NMN is safe and effective.
In May this year, another Japanese team studied the physiological function of the elderly after taking 250 mg of NMN for 12 consecutive months and found that the muscle function of middle-aged and elderly men was effectively improved, and NMN also prevented aging-related muscle dysfunction. potential.
In addition, the Chinese research team found that NMN can improve the effect of mitochondrial oxidative stress and delay the aging of intestinal cells.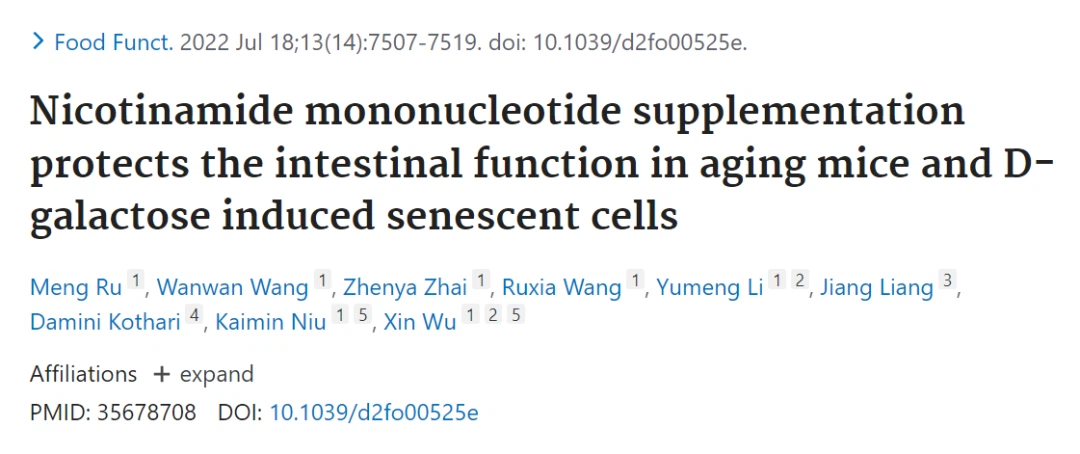 The research team fed 16-month-old mice (equivalent to 45-60 years old in humans) with 500 μM NMN for 4 months, isolated and obtained the intestinal tissues and cells of the mice, and analyzed the NAD+ content in the intestinal tissues. The increase in the structure of the small intestinal mucosa was improved.
In addition, NMN also significantly up-regulated the expression of longevity-related proteins (SIRT3, SIRT6), antioxidant enzyme-related genes (SOD2), antioxidant-related pathways (Nrf2) and intestinal barrier-related genes (occludin, claudin-1), so it is appropriate to Regulates oxidative damage effects and barrier function in aging intestinal cells, reducing intestinal wall permeability and absorption rate of harmful molecules
Supplier Introduction: China glutathione supplier and NMN manufacturer GSHworld, the company mainly develops biotechnology and industrialization. As a global pioneer in enzymatic catalytic ATP regeneration technology, our company advocates green production and is committed to providing customers with better and more environmentally friendly products and services. Glutathione Manufacturer,NMN Factory,Citicoline Sodium supplier,China NMN manufacturers