Jan 13, 2023 / Author: China Glutathione suppliers & NMN manufacturers
Chronic fatigue syndrome is currently the symptom with the highest proportion among the "sequelae" of the new crown.
In December 2022, data from a meta-analysis published in The Lancet showed that 45% of patients with new coronary pneumonia (whether hospitalized or not) died within about 4 months (average 126 days). There are still "sequelae" of the new crown, ranking first: fatigue. Additionally, multiple studies have shown that the situation is more severe in women.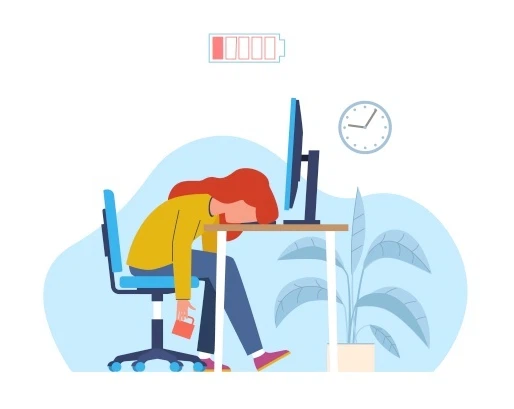 clinical research
At the end of 2022, an international multi-center double-blind randomized controlled efficacy and safety clinical trial jointly participated by research teams from the Netherlands, Singapore, China, and India was published in "GeroScience". Supplementing NMN can increase blood NAD+ content, and can effectively Improve physical fitness, improve blood physiological age, and significantly improve health assessment scores [2].

The study screened 80 healthy volunteers aged 40-65 (average age 49.3, 59% female), and were randomly divided into 4 groups: placebo group, NMN 300mg/day group, 600mg/day group, 900mg/day group , for a period of 60 days. Subjects were comprehensively tested on Day 0, Day 30, and Day 60.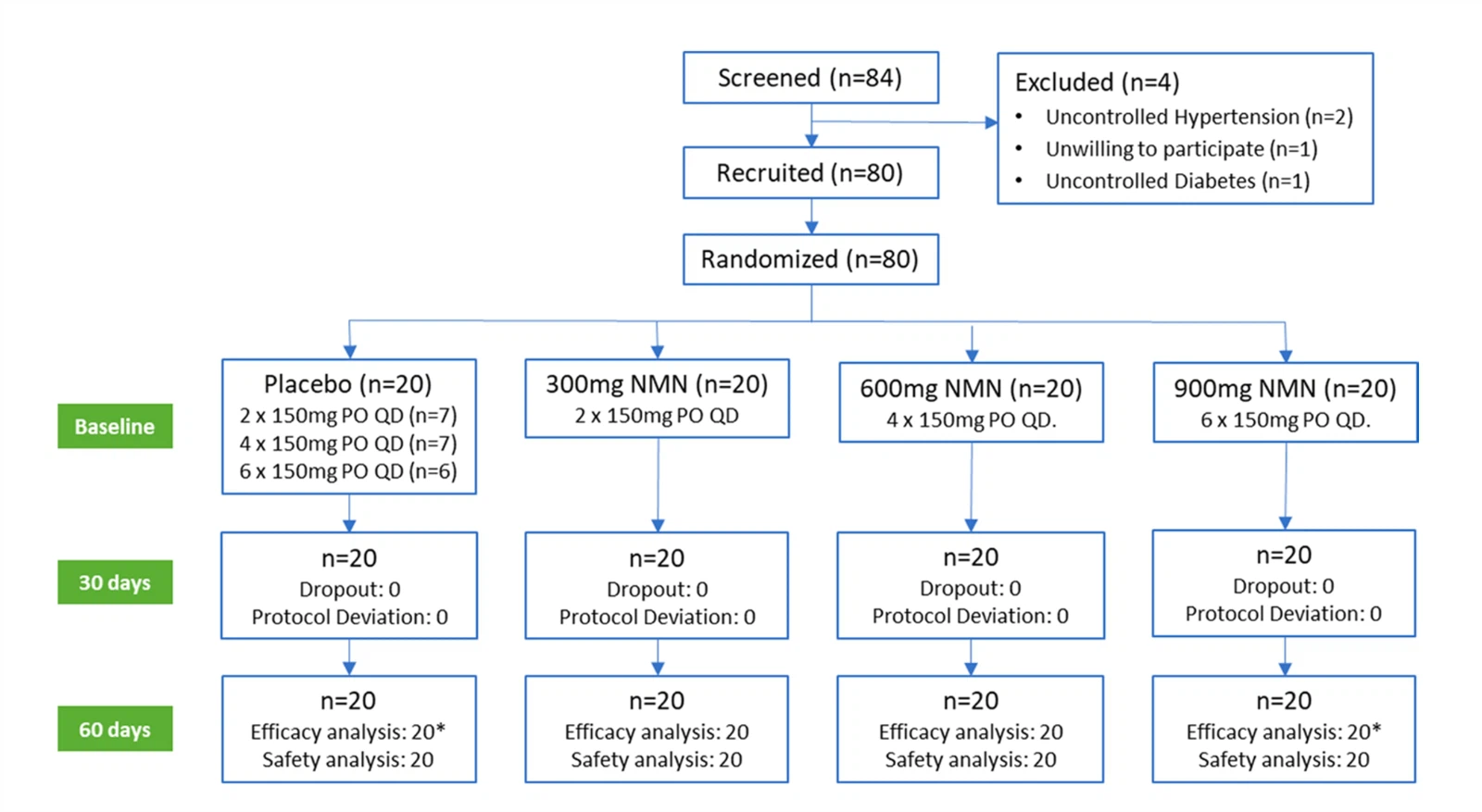 Figure: Clinical trial process: NMN effect and safety evaluation
1. The security of NMN
All published clinical studies have demonstrated the safety of NMN, and this one is no exception. The highest dose in this study was 900 mg daily, which was shown to be safe and well tolerated. After 60 days of taking NMN in all groups, there were no obvious abnormal changes in laboratory parameters and physical examination indexes.
2. Blood NAD+ level
The researchers detected the NAD+ levels in the blood of the subjects on the 30th and 60th days. Compared with the placebo group, the NAD+ levels in the blood of the subjects taking NMN (300mg/600mg/900mg) were on the 30th day And the 60th day has obvious improvement. Moreover, compared with subjects taking 300mg NMN, subjects taking 600mg and 900mg NMN increased their blood NAD+ levels more significantly.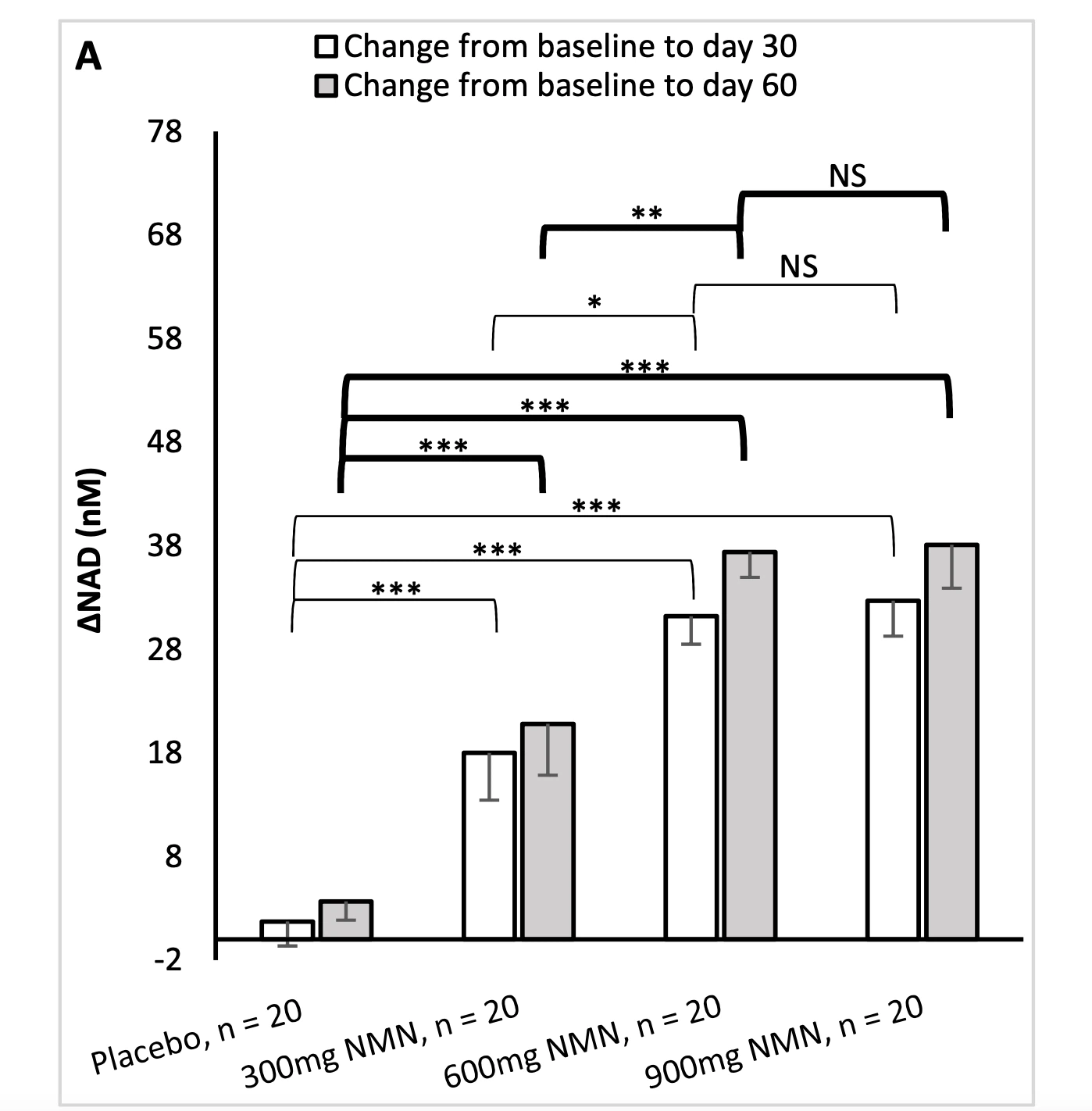 Figure: Taking NMN can significantly increase blood NAD+ level

3.6 minute walk test
The 6-minute walk test is an exercise test that assesses aerobic capacity (heart and lung fitness) and endurance. Compared with the placebo group, the walking distance of the three NMN groups increased, and the 600mg and 900mg NMN subjects had a more significant increase in walking distance than the 300mg group.
It can be seen that NMN has significantly improved the exercise ability of the subjects.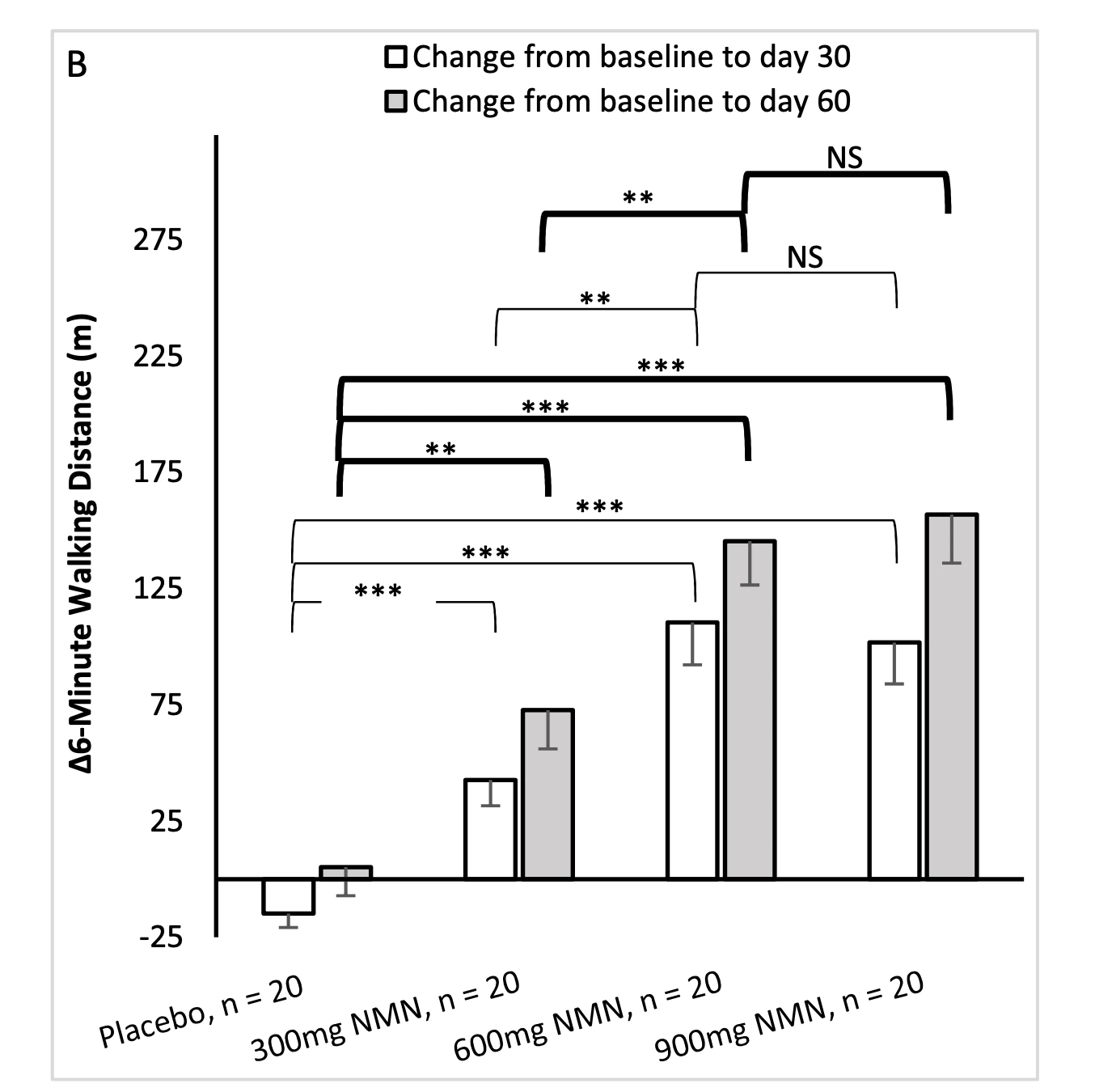 Figure: The 6-minute walk test distance increased significantly in the NMN group
4. Blood biological age
Blood physiological age is to judge the biological age of a person through blood test indicators. The researchers examined 19 clinical laboratory test parameters to assess blood physiological age. In the NMN group, blood biological age did not increase significantly over time, whereas in the placebo group, blood biological age increased significantly from baseline to day 60. Moreover, blood physiological age was significantly improved in all 3 NMN groups compared with the placebo group. This means that NMN is indeed effective in delaying aging.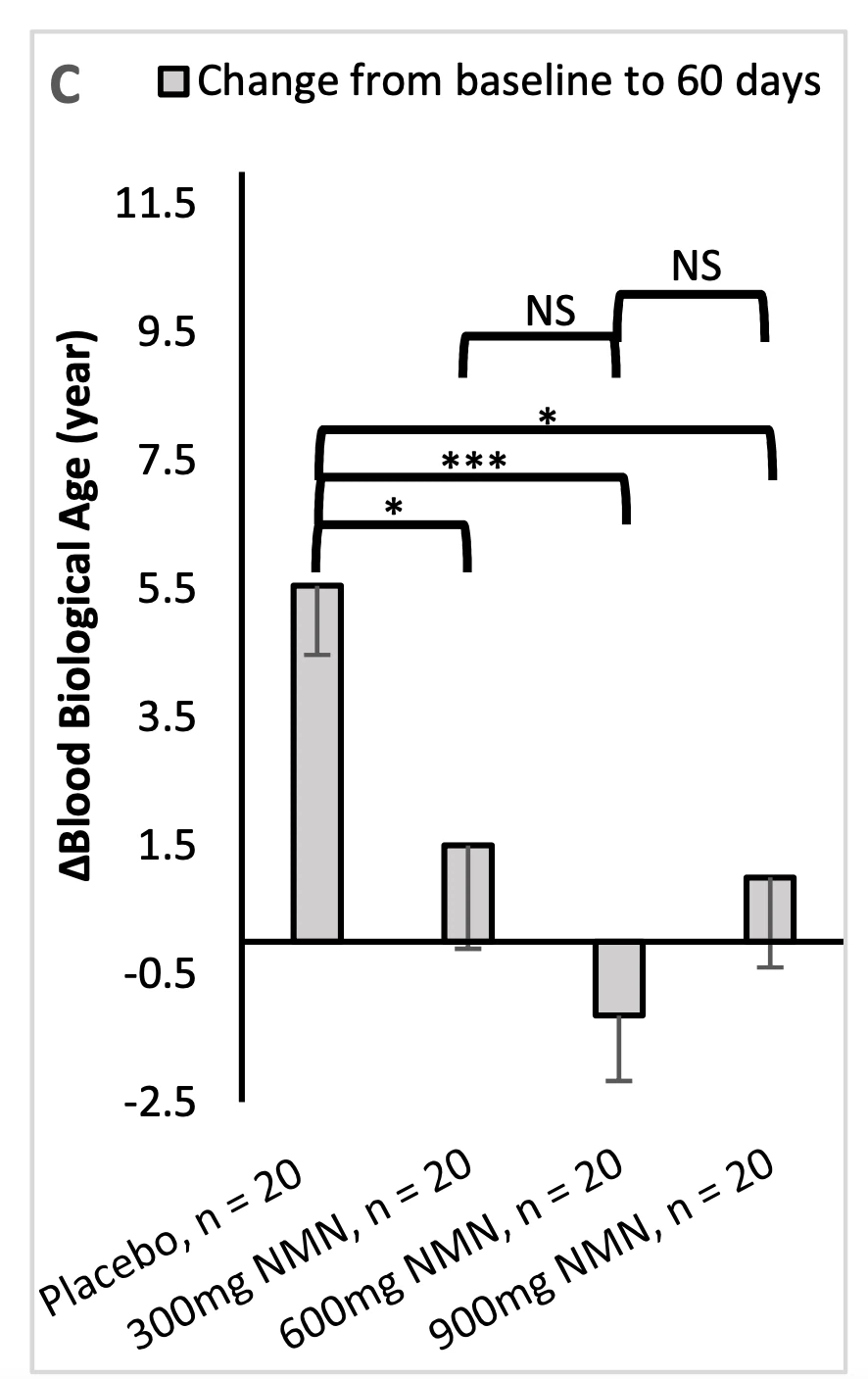 Figure: NMN improves blood physiological age
5. SF-36 Health Score
The SF-36 is a score that assesses participants' overall health or quality of life. No change in placebo scores, all 3 groups of NMN gave better SF-36 scores at day 60 compared to placebo, especially at day 30 for 600mg vs 900mg Better SF-36 scores.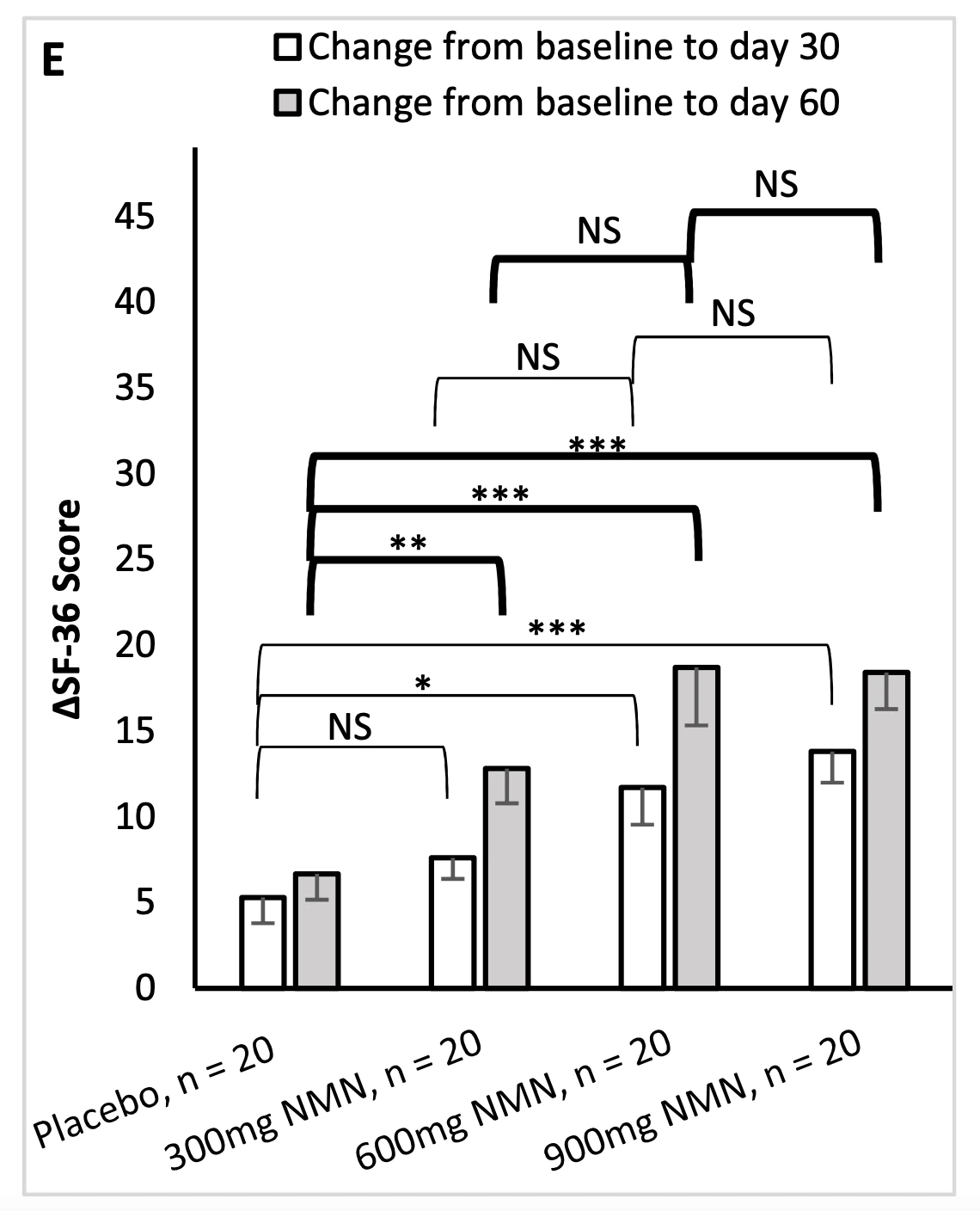 Figure: The SF-36 health score of NMN subjects was significantly improved
Interestingly, this study found that oral administration of 600mg of NMN per day had the best clinical effect on blood NAD concentration and physical performance. This is a valuable reference for those taking NMN supplements.
Supplier Introduction: China glutathione supplier and NMN manufacturer GSHworld, the company mainly develops biotechnology and industrialization. As a global pioneer in enzymatic catalytic ATP regeneration technology, our company advocates green production and is committed to providing customers with better and more environmentally friendly products and services. Glutathione Manufacturer,NMN Factory,Citicoline Sodium supplier,China NMN manufacturers