Sep 29, 2022 / Author: China Glutathione suppliers & NMN manufacturers
Polycystic ovary syndrome (PCOS) is a common endocrine disease in women of childbearing age, with the main clinical manifestations of varying degrees of menstrual disorders, infertility, hirsutism, obesity, and acne.
The diagnostic criteria for PCOS are long-term sparse ovulation or anovulation, B-ultrasound indicating ovarian polycystic changes, and hormone level disorders (high androgen) that meet 2 or more of these 3 items. Also, most women with PCOS have adverse metabolic profiles, including insulin resistance, obesity, dyslipidemia, hepatic steatosis, and an increased risk of type 2 diabetes and cardiovascular disease.
Previous studies on NMN are helpful in restoring insulin sensitivity, improving blood lipids, and reversing non-alcoholic fatty liver disease. In particular, a clinical study in postmenopausal, obese, prediabetic women showed that NMN restored insulin sensitivity in skeletal muscle. Because the endocrine and metabolic characteristics of these women are similar to those of polycystic ovary syndrome patients, it is also expected that NMN can improve PCOS. The UNSW study did not disappoint.
In this study, pubertal female mice were treated with the androgen dihydrotestosterone (DHT) for 12 weeks to induce polycystic ovary syndrome (PCOS), and then fed with NMN (added to drinking water) for 8 weeks. Controlled study.
NAD+ levels in the muscle of PCOS mice were significantly reduced, confirming our hypothesis that insulin resistance associated with a hyperandrogenic PCOS environment is due to decreased NAD levels in muscle. This drop was restored in mice fed NMN.

NMN restores muscle NAD+ levels in PCOS mice
Fasting insulin levels more than doubled in the androgen DHT-induced PCOS group compared to controls, likely reflecting insulin resistance. That is, when the glucose sensitivity of insulin cells decreases, the body will secrete too much insulin to compensate. After administration of NMN, fasting insulin levels returned to levels close to those of normal mice.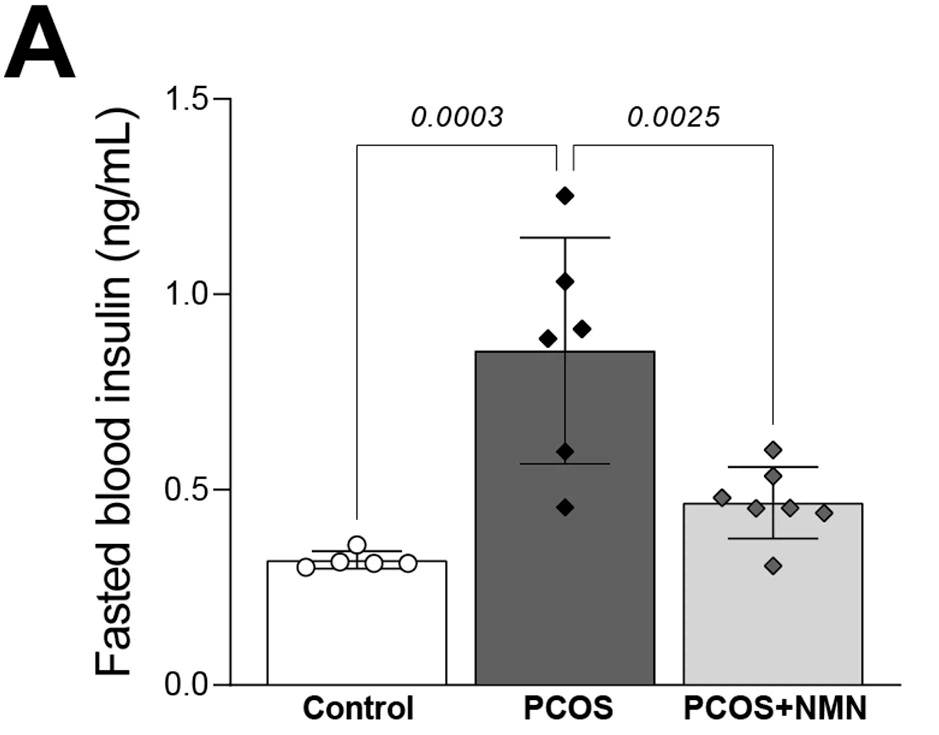 NMN restores fasting insulin levels in PCOS mice
The PCOS model mice had a 20% increase in total body weight and a significant increase in fat mass, as well as inguinal, paramyometrial, mesenteric, retroperitoneal, and brown fat weights. Fat gain was reduced without dietary changes following NMN use.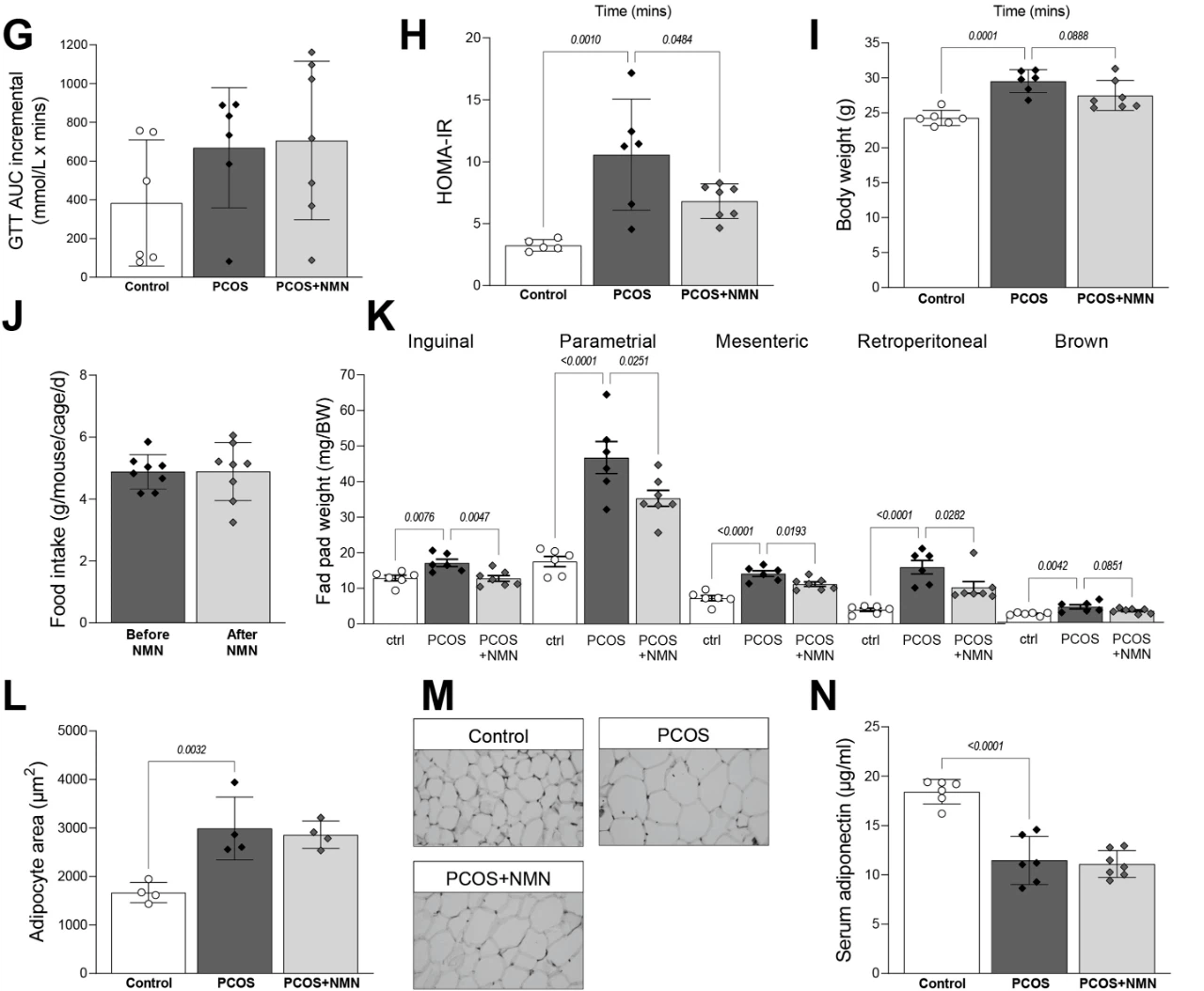 NMN can improve DHT-induced fat metabolism disorder and obesity
More strikingly, a major feature of polycystic ovary syndrome is nonalcoholic fatty liver disease (NAFLD) induced by hepatic lipid deposition. NMN almost completely eliminated the abnormal hepatic lipid deposition in PCOS mice. Glycerol in the liver Triesters returned to normal mouse levels.
NMN restores hepatic steatosis
Interestingly, the researchers explored the rationale behind, arguing that insulin resistance in PCOS is likely due to a lack of NAD+ in muscle, with NMN increasing muscle NAD+ levels, including hyperinsulinemia, obesity and A range of metabolic parameters, including hepatic fat deposition, were improved. At the same time, it is not excluded that NMN can act on pancreatic β cells to play a role. Although the relevant mechanism remains to be further explored, it is certain that NMN can play a positive role in improving metabolic disorders in polycystic ovary syndrome.
Supplier Introduction: China glutathione supplier and NMN manufacturer GSHworld, the company mainly develops biotechnology and industrialization. As a global pioneer in enzymatic catalytic ATP regeneration technology, our company advocates green production and is committed to providing customers with better and more environmentally friendly products and services. Glutathione Manufacturer,NMN Factory,Citicoline Sodium supplier,China NMN manufacturers