Lipoic acid (LA), also known as α-lipoic acid (α-LA), is an endogenous disulfide compound similar to vitamins in the human body. It exists in mitochondria and can eliminate free radicals that accelerate aging and cause disease. Lipoic acid regenerates endogenous antioxidants, including vitamin C, vitamin E, coenzyme Q10, glutathione, and more. Lipoic acid enters cells after being absorbed by the intestinal tract in the body. It has both fat-soluble and water-soluble properties. Therefore, it can pass through the body without hindrance, reach any cell site, and provide the overall efficacy of the human body. It is called "universal antioxidant".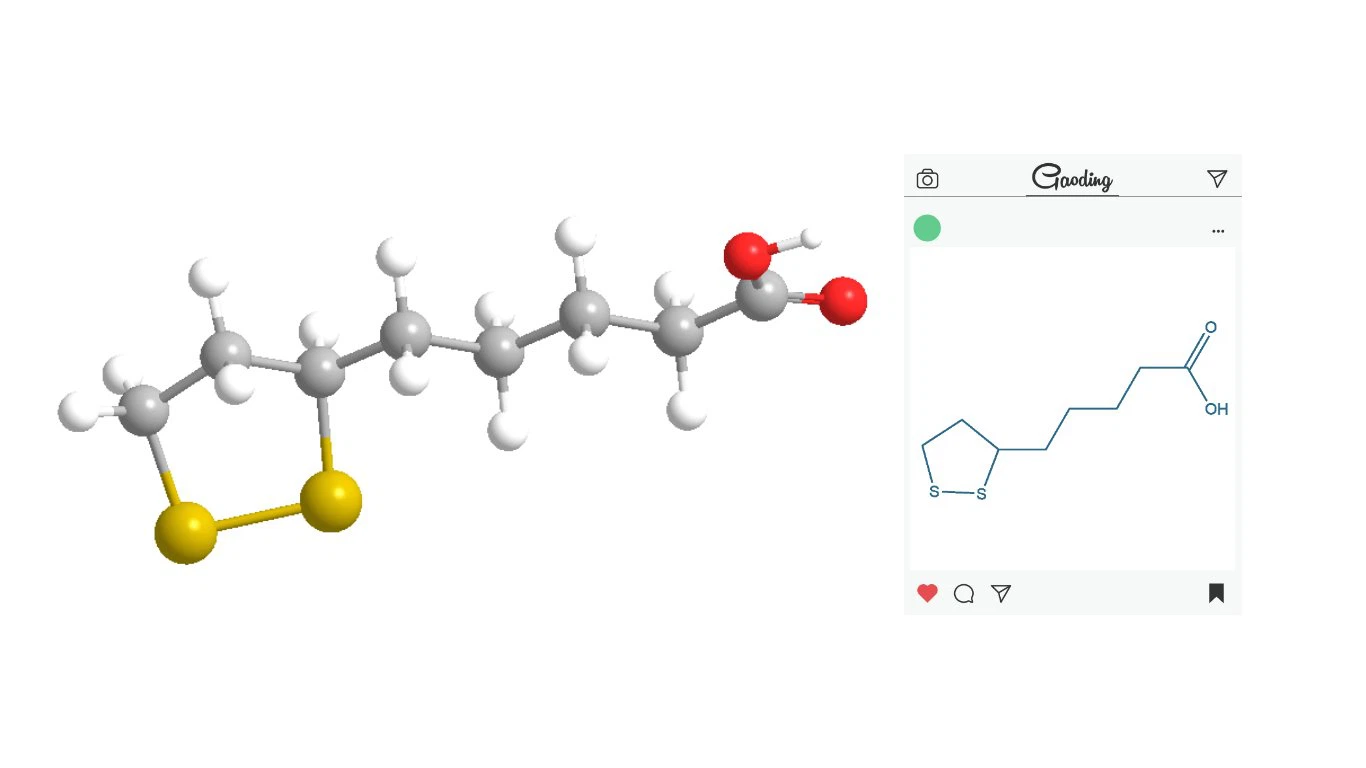 α-Lipoic Acid(C8H14O2S2)

CAS

1077-28-7

Appearance

Light yellow crystalline powder

Assay

≥98.0%

Loss on drying

Not more than 0.2%

Heavy Metal

Not more than 10ppm

Application

Raw material、medicine

Shelf Life

24 months when properly stored.
Although the human body can synthesize lipoic acid by itself, it is far from enough. Before the advent of lipoic acid supplements, food-derived lipoic acid was the main source of human supplementation.
Dosage and Safety
In terms of dosage, clinical studies have proven that 2400mg per day for 6 months, even in patients with impaired renal or hepatic function, lipoic acid has proven to be safe and has no obvious side effects. Common side effects that may occur are nausea and gastrointestinal discomfort, and generally there is no problem with stopping or reducing the dose.
A meta-analysis on the safety of lipoic acid jointly published by 10 university hospitals in many European countries in August 2020, including 71 clinical trials with a total of 4749 subjects, is the most comprehensive safety of lipoic acid so far. The evaluation also confirmed that lipoic acid did not have any significant side effects or safety concerns.
Higher doses of lipoic acid have been shown to be safe, but it is also important to know what is the best dose. A retrospective clinical trial published in Italy in 2020 reviewed 322 subjects using lipoic acid daily, of which 83 were 400mg per day, 78 were 600mg per day, 80 were 800mg per day, and 81 were 1200mg per day. The study found that using the above-mentioned dose of lipoic acid for 4 years did not find any side effects, but only with daily use of 800 mg to 1200 mg, the subjects' metabolic indicators, including glucose tolerance and blood lipids, were significantly improved. However, the population included in the study was insulin-resistant but non-diabetic. The study also pointed out that for diabetic patients, the lowest dose may be 600 mg. In other words, it will be effective until 800 mg for insulin-resistant patients who are not too bad, but for patients with low "base" of diabetics, 600mg may already be effective but higher doses are more effective. However, there are also clinical studies showing that 600mg has no effect on diabetics, and higher doses are recommended.
Lipoic acid is ideally taken on an empty stomach, that is, 2 hours after meals or more than half an hour before meals. It will reduce the absorption of lipoic acid by about 20% with food.
*The content of this article is provided for information only, does not represent the position and recommendation of the company, and cannot replace the doctor's treatment, diagnosis and recommendation.