The main functional group of glutathione is sulfhydryl (-SH), which can be oxidized to -S-S- bond (disulfide bond), and the -S-S- bond is reduced and converted into sulfhydryl group. of many enzymes, especially those related to protein transformation. Because the human body is constantly undergoing oxidation and reduction reactions in its life activities, and the oxidation reaction will generate free radicals. Too many free radicals will damage the body and are also an important factor leading to aging.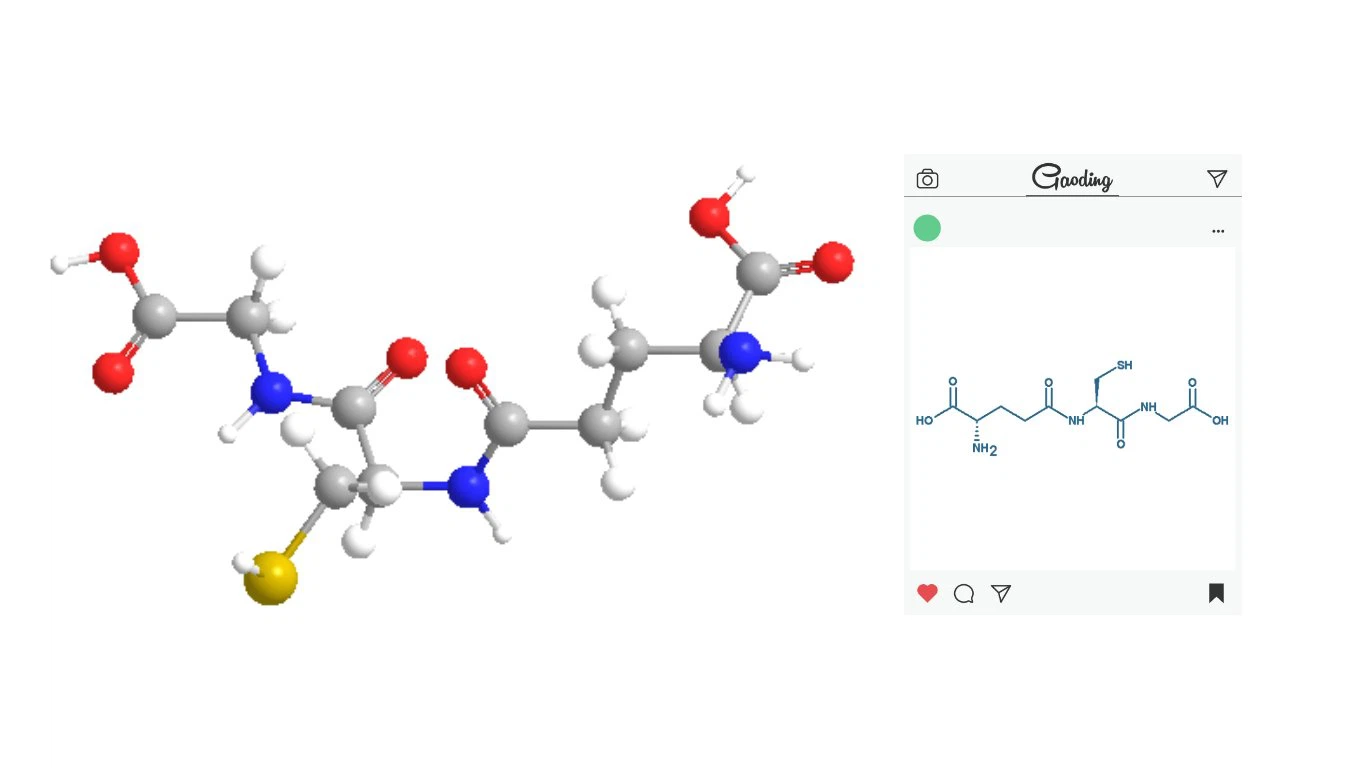 L-Glutathione Reduced(C10H17N3O6S)

CAS

70-18-8

Appearance

White or almost white powder

Assay

99% min

Chlorides

Not more than 200 ppm

Sulfates

Not more than 300 ppm

Ammonium

Not more than 200 ppm

Iron

Not more than 10 ppm

Arsenic

Not more than 2 ppm

Heavy metals

Not more than 10 ppm

Cadmium (Cd)

Not more than 1 ppm

Lead (Pb)

Not more than 3 ppm

Mercury (Hg)

Not more than 1 ppm

Sulfated ash

Not more than 0.1%

Loss on drying

Not more than 0.5%

Shelf Life

Two years when properly stored.
To scavenge excess free radicals, the body has an antioxidant network consisting of vitamin C, vitamin E, glutathione, ubiquinone (Co. Q10), lipoic acid, niacinamide, and more.
Glutathione plays a vital role in the antioxidant system in the body, and antioxidant is related to a variety of processes, including aging, melanin synthesis, cell damage, inflammation, etc. Of course, the cosmetics industry is extremely welcome.
1.Whitening mechanism
Glutathione can directly inhibit the activity of tyrosinase, and at the same time can sweep away a large number of oxidative free radicals, prevent free radicals from activating tyrosinase, and can also be hydrolyzed into cysteine, which interferes with melanin synthesis.
2. Fights inflammation and allergies
Glutathione has also been linked to allergies. Chinese researchers Zhao Xinling and others tested the anti-allergic activity of glutathione in vitro and found that it can be anti-allergic. Its effects include inhibiting hyaluronidase and inhibiting delayed-type allergic reactions. Sensitivity is quite effective.
3. Detoxification effect
Glutathione can detoxify both exogenous and endogenous toxins. This is because its structure contains an active sulfhydryl-SH, which is easy to be oxidatively dehydrogenated. This specific structure makes it the main free radical scavenger in the body, which can purify the body environment by scavenging free radicals.