Glutathione, also known as GSH, is a naturally occurring molecule that is found in our bodies as well as in some foods. It is produced by our liver and plays a critical role in detoxification, immune system function, and protecting our cells from oxidative damage. In recent years, glutathione has gained popularity in the skincare industry due to its anti-aging and skin-brightening properties.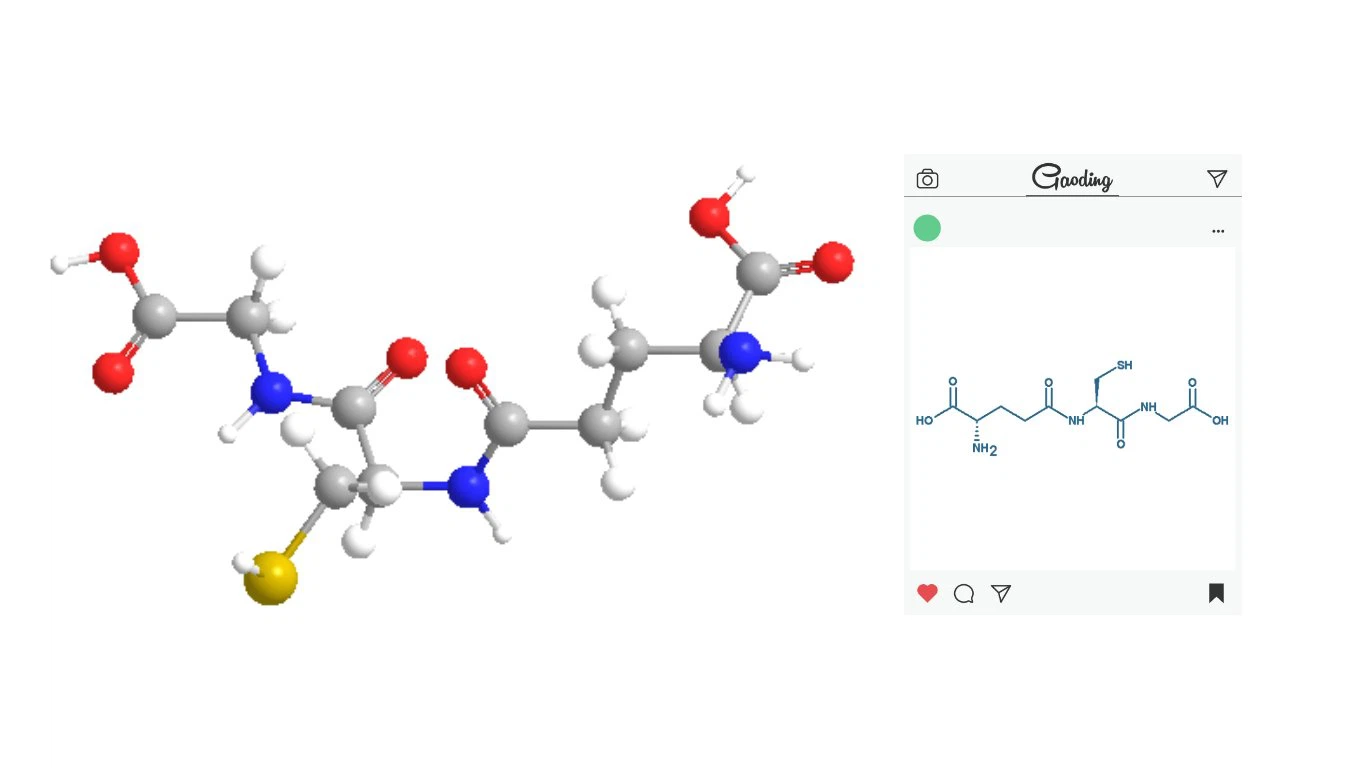 L-Glutathione Reduced(C10H17N3O6S)

CAS NO.

70-18-8

Appearance

White or almost white powder

Assay

99% min

Chlorides

Not more than 200 ppm

Sulfates

Not more than 300 ppm

Ammonium

Not more than 200 ppm

Iron

Not more than 10 ppm

Arsenic

Not more than 2 ppm

Heavy metals

Not more than 10 ppm

Cadmium (Cd)

Not more than 1 ppm

Lead (Pb)

Not more than 3 ppm

Mercury (Hg)

Not more than 1 ppm

Sulfated ash

Not more than 0.1%

Loss on drying

Not more than 0.5%

Shelf Life

Two years when properly stored.
How Glutathione Works?
Glutathione is a tripeptide composed of three amino acids: glutamic acid, cysteine, and glycine. It is synthesized in our liver and is found in high concentrations in our cells, especially in our skin cells. The primary function of glutathione is to act as an antioxidant, which means that it helps to neutralize free radicals and prevent oxidative damage in our cells.

What does glutathione do to your skin?
1. Anti-aging properties: Glutathione is a potent antioxidant that helps to counteract the damaging effects of free radicals on our skin. Free radicals are unstable molecules that cause oxidative stress, leading to premature aging of our skin. By neutralizing these free radicals, glutathione helps to reduce the appearance of wrinkles, fine lines, and other signs of aging.
2. Skin brightening: Glutathione also has skin-brightening properties that help to reduce the appearance of dark spots, hyperpigmentation, and uneven skin tone. It does this by inhibiting the enzyme responsible for melanin production, which is the pigment that gives our skin its color. By reducing melanin production, glutathione helps to even out our skin tone and give it a brighter, more radiant appearance.
3. Detoxification: As we mentioned earlier, glutathione plays a critical role in detoxifying our bodies. In skincare, it helps to remove toxins and impurities from our skin, leaving it clean and healthy. By removing these toxins, glutathione helps to prevent breakouts, inflammation, and other skin issues.
Thanks to its anti-aging and skin-brightening properties, glutathione has become a popular ingredient in skincare products. Whether you are looking to reduce the signs of aging or achieve a brighter, more even skin tone, glutathione is a great ingredient to look for in your skincare products.
About us
GSH BIO-TECH is an innovative high-tech enterprise with enzyme catalysis technology as the core, dedicated to the research, development, production and sales of biomedicine. The company adopts advanced production technology and quality inspection technology, and the product quality is excellent. Stable performance, won the trust of customers. We have been constantly developing and innovating to meet the needs of various customers. The products are exported to the United States, Europe, Japan, Australia and other places, and are widely used in medicine, health food, cosmetics, food supplements and beverages and other industries. The company's main products are glutathione (GSH), β-Nicotinamide Mononucleotide and Citicoline sodium (CDPC), Should you have interests in us, please don't hesitate to get in touch with us, we will be pleased to supply any further information you require.
Product Line

why choose us
Factory direct sales: source manufacturers, high-quality products
Advanced equipment: advanced equipment professional production management
Support customization: multi-category customization to meet various needs
Fast delivery: many logistics companies cooperate with each other, and deliver quickly
Professional service: special person docking, full follow-up
FAQ
01: Are you a manufacturer or a trading company?
A: Yes, we are a manufacturer, we have a research base in Beijing, and three factories distributed in China.
02. How do you guarantee the quality?
A: We have established strict quality control rules based on 1SO quality management system. We have complete quality analysis from production line to warehouse. Before loading, we authorize reputable third parties to carry out inspections and original reports directly to customers.
03: Can I get free samples?
A: Free samples for quality evaluation of most products, you only need to bear the shipping cost.
04: Which payment terms can you accept?
A: Payment term: T/T, D/A, D/P, L/C, Western Union, you can choose your convenient payment term.
05: Shipping terms?
A: Samples can be provided by DHL, UPS, TNT, EMS, Fedex, etc. For bulk order, it will be delivered by sea, air, truck or train according to your requirement.
06: What's the delivery time?
A: For small order, delivery just takes 4-5 days, after large quantity, it takes about 7 days.