Adenosine Triphosphate is a coenzyme that can improve the metabolism of the body and participate in the metabolism of fat, protein, sugar, nucleic acid and nucleotide in the body. At the same time, it is the main source of energy in the body, and can be transformed with ADP to realize energy storage and release, thereby ensuring the energy supply for various life activities of cells.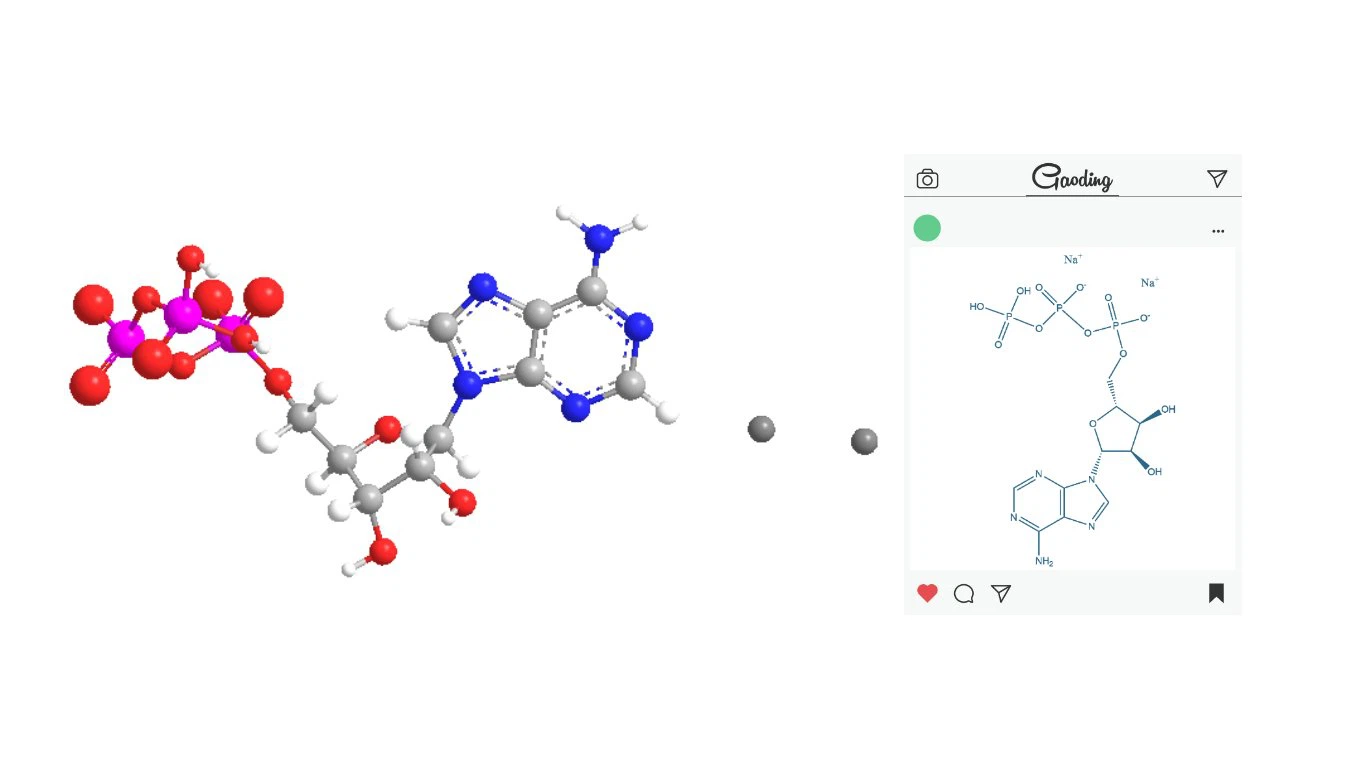 Adenosine Triphosphate Disodium(C10H14N5Na2O13P3)

CAS NO.

987-65-5

Appearance

White or almost white powder

Assay

C10H14N5Na2O13P3≥95%(on the dried basis)

Heavy metals

Not more than 10 ppm

Loss on drying

Not more than 8%

Application

Raw material、medicine

Shelf Life

18 months when properly stored.
How does ATP provide energy to your body?
Adenosine triphosphate is composed of adenine, ribose (adenosine) and three phosphate molecules, and participates in the metabolism of fat, protein, sugar, nucleic acid and nucleotide in the body. When energy is needed for absorption, secretion, muscle contractual and biochemical reactions in the body, adenosine triphosphate is decomposed into adenosine diphosphate and phosphate groups, and energy is released at the same time.
How do you replenish ATP?
Diet can be optimized to include foods that help increase ATP levels. Compared with glucose, fatty acids are more efficient in generating ATP. Therefore, changing the carbohydrate-based diet to "high protein + relatively high high-quality fat + low carbohydrate water" can obtain more ATP. The most abundant foods include meat, fish, vegetables, fruits and nuts. Specific examples include:
· animal organs
· broccoli
· beef
· brocoli
· sardine
· spinach
There have also been studies showing that oral ATP supplementation by athletes may help increase muscle mass, strength and power. It may also help prevent performance decline after increasing training frequency. A 2017 study showed that ATP supplements may help prevent the exercise-induced drop in ATP levels that makes it easy to engage in repeated high-intensity activity.
About us
GSH BIO-TECH is an innovative high-tech enterprise with enzyme catalysis technology in the field of synthetic biology as the core and cross-application of multidisciplinary technologies.The company's main products are glutathione (GSH), β-Nicotinamide Mononucleotide and Citicoline sodium (CDPC), Should you have interests in us, please don't hesitate to get in touch with us,we will be pleased to supply any further information you require.
Product Line

Purchase Notes
COMPETITIVE PRICING : The digital factory establishment, strong production capacity and labor cost saving make our prices competitive in the industry.
UNMATCHED QUALITY :They take quality as our life. They strictly control the quality of each process and establish a complete quality control system. We promise to bring best quality products to customers.
TRANSPORT CAPACITY :There have professional freight agents, customs clearance agencies set up in the destination. Deliver your package safely.
According to the customer's transport needs can choose: FEDEX UPS TNT DHL air charter and sea.