Glutathione (GSH) is a tripeptide containing γ-amide bond and sulfhydryl group, composed of glutamic acid, cysteine and glycine, present in almost every cell of the body.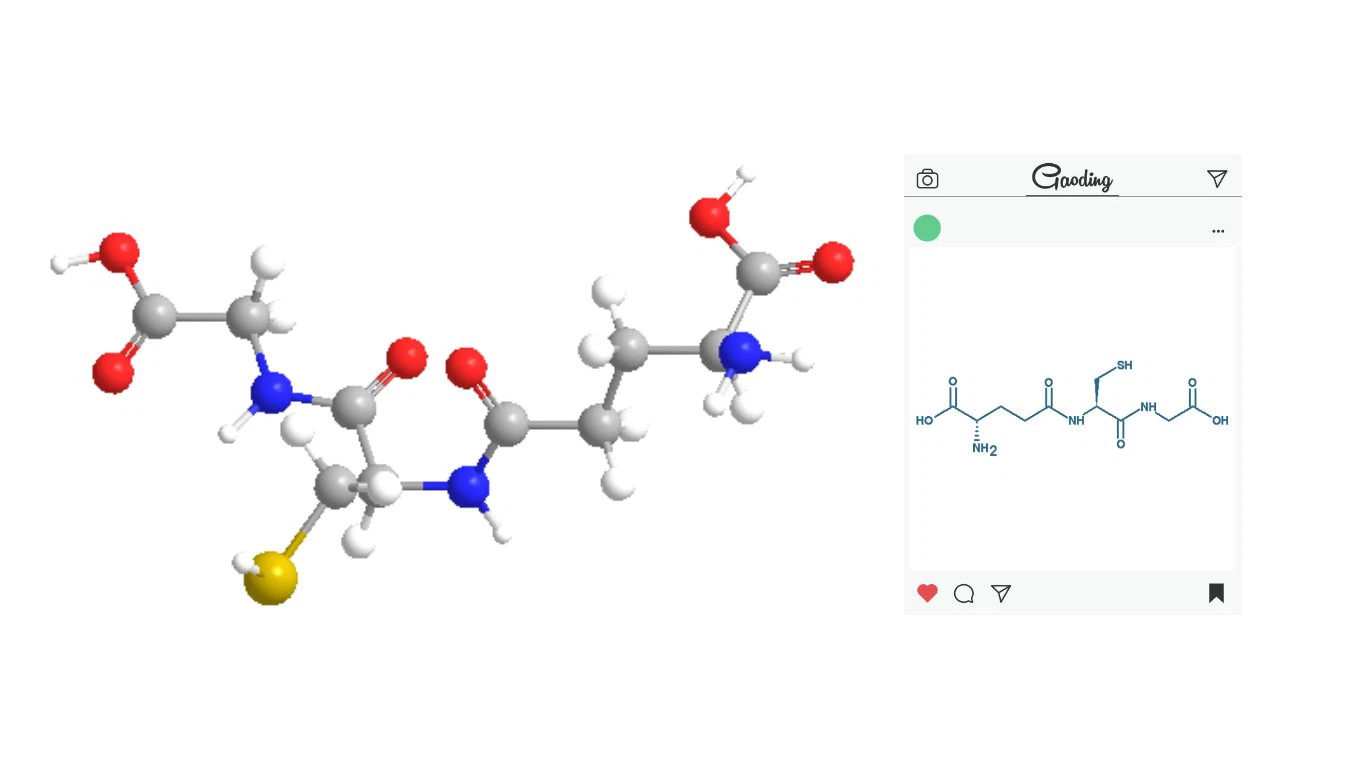 Product description of L-Glutathione Raw Powder:
L-Glutathione Reduced(C10H17N3O6S)

CAS NO.

70-18-8

Appearance

White or almost white powder

Assay

99% min

Chlorides

Not more than 200 ppm

Sulfates

Not more than 300 ppm

Ammonium

Not more than 200 ppm

Iron

Not more than 10 ppm

Arsenic

Not more than 2 ppm

Heavy metals

Not more than 10 ppm

Cadmium (Cd)

Not more than 1 ppm

Lead (Pb)

Not more than 3 ppm

Mercury (Hg)

Not more than 1 ppm

Sulfated ash

Not more than 0.1%

Loss on drying

Not more than 0.5%

Shelf Life

Two years when properly stored.
The sulfhydryl group on cysteine is its active group (so it is often abbreviated as G-SH), which is easy to combine with certain drugs and toxins, so that it has an integrated detoxification effect. Glutathione can not only be used in medicine, but also can be used as the base material of functional food, which is widely used in functional food such as delaying aging, enhancing immunity and anti-tumor.
Physiological functions of glutathione
1. Detoxification: combine with poison or drug to eliminate its toxic effect;
2. Participate in redox reactions: As an important reducing agent, it participates in various redox reactions in the body;
3. Protect the activity of thiol enzymes: keep the active group of thiol enzymes—SH in a reduced state;
4. Maintain the stability of the membrane structure of red blood cells: eliminate the destructive effect of oxidants on the membrane structure of red blood cells.
Adding glutathione to food can play an unexpected role:
a. Added to flour products, it can play a reducing role. It not only shortens the time for making bread to one-half or one-third of the original time, but also greatly improves the working conditions, and plays the role of strengthening food nutrition and other functions.
b. Add it to yogurt and infant food, which is equivalent to vitamin C and can act as a stabilizer.
c. Stir it into the fish cake to prevent the color from deepening.
d. When added to foods such as meat products and cheese, it has the effect of strengthening the flavor.
About us
GSH BIO-TECH is an innovative high-tech enterprise with enzyme catalysis technology in the field of synthetic biology as the core and cross-application of multidisciplinary technologies.We provide L-Glutathione Reduced, L-Glutathione Oxidized, and S-Acetyl-L-Glutathione, both of which are produced in GMP certified workshops, with a purity of more than 99%, and the density can be customized, Should you have interests in us, please don't hesitate to get in touch with us,we will be pleased to supply any further information you require.
Product Line

why choose us
Factory direct sales: source manufacturers, high-quality products
Advanced equipment: advanced equipment professional production management
Support customization: multi-category customization to meet various needs
Fast delivery: many logistics companies cooperate with each other, and deliver quickly
Professional service: special person docking, full follow-up
FAQ
Q: Are you trading company or manufacturer?
A: We are professional manufacturer specialized in active pharmaceutical ingredients products. And we trade our products with our clients directly.
Q: Do you have the test and audit service?
A: Yes, we can assist to get the designated test report for product and the designated factory audit report.
Q: What's is your shipping service?
A: We can provide services for vessel booking, goods consolidation, customs declaration, shipping documents preparation and delivery bulk at the shipping port.
Q: How long is your delivery time?
A: The general delivery time is 7 days after receiving your order confirmation. If we have the goods in stock, it will only take 1-2 days.
Q: Do you provide sample ? Is it free?
A: If the sample is low value, we will provide the free sample with freight collect. But for some high value samples, we need to collect the sample charge.
Q: What is your term of payment?
A: 100% T/T in advance.