Glutathione is a low molecular weight thiol tripeptide that plays an important role in maintaining intracellular redox balance. In addition to its remarkable antioxidant properties, the discovery of its anti-melanogenic properties has led to its use as a skin lightening agent. Glutathione exists in a reduced form (GSH) and an oxidized form (GSSG).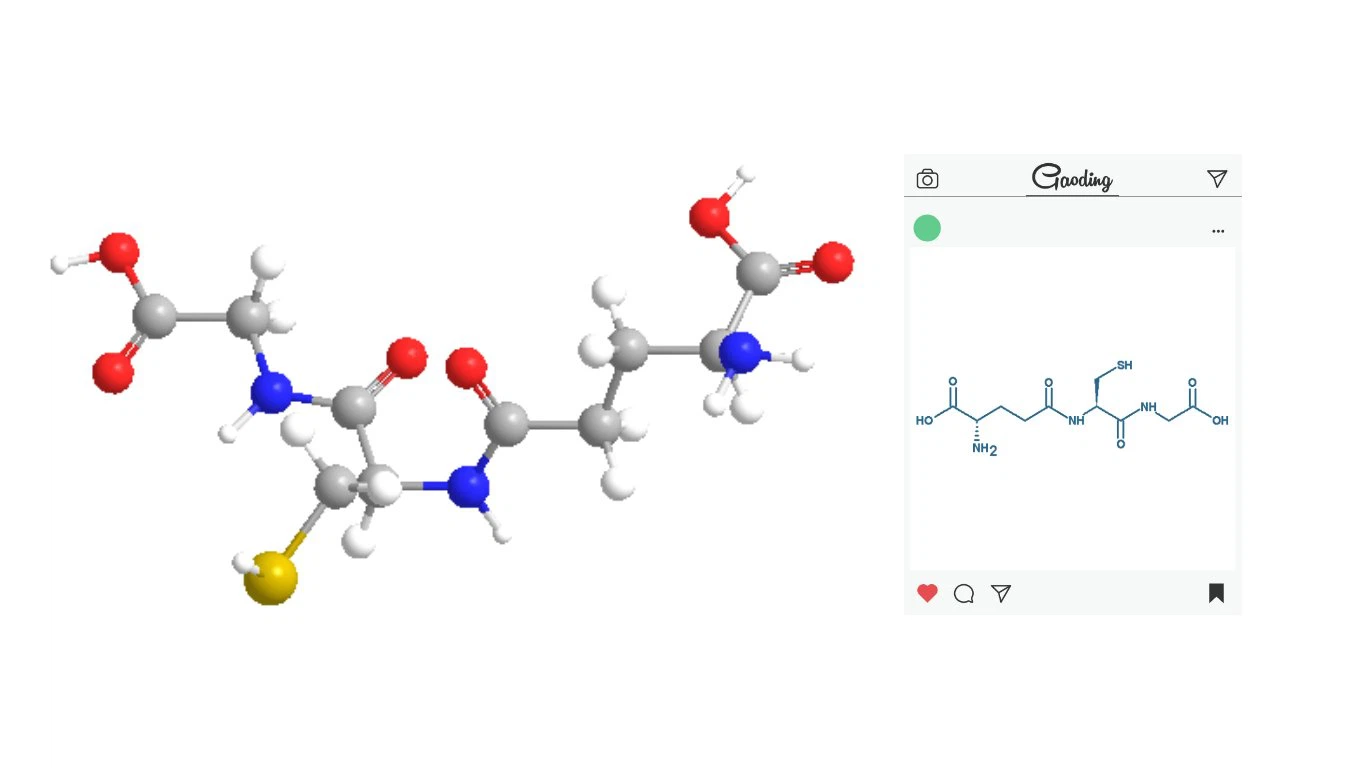 L-Glutathione Reduced(C10H17N3O6S)

CAS

70-18-8

Appearance

White or almost white powder

Assay

99% min

Chlorides

Not more than 200 ppm

Sulfates

Not more than 300 ppm

Ammonium

Not more than 200 ppm

Iron

Not more than 10 ppm

Arsenic

Not more than 2 ppm

Heavy metals

Not more than 10 ppm

Cadmium (Cd)

Not more than 1 ppm

Lead (Pb)

Not more than 3 ppm

Mercury (Hg)

Not more than 1 ppm

Sulfated ash

Not more than 0.1%

Loss on drying

Not more than 0.5%

Shelf Life

Two years when properly stored.
Glutathione is the main component of "whitening pills" and "whitening injections" that are common on the market. A large number of experiments have proved that whitening pills or whitening injections containing glutathione are really effective.
Three whitening mechanisms of glutathione:
1. Directly inhibit the activity of tyrosinase, and at the same time, it can sweep away a large number of oxidative free radicals, prevent free radicals from activating tyrosinase, and can also be hydrolyzed into cysteine, which interferes with the synthesis of melanin, thereby inhibiting the precipitation of melanin and conditioning the skin. Play a role in whitening and lightening spots.
2. Indirectly mediate the switching mechanism from eumelanin to pheomelanin: human skin melanin has two forms of eumelanin and pheomelanin. When the synthesis of eumelanin increases and the synthesis of pheomelanin decreases, the skin color becomes darker; otherwise, the skin becomes whiter and brighter. Glutathione shifts melanogenesis from eumelanin to pheomelanin synthesis through the reaction between thiols and dopaquinone.
3. Accelerate the metabolism of the intermediate products produced during the production of melanin, which has the effect of "drawing fire from the bottom of the pot" and preventing the production of melanin.
The three main routes of administration of glutathione for whitening are topical (topical), oral (capsules and sublingual/buccal tablets) and injection (intravenous and topical). Sublingual or oral routes may improve glutathione bioavailability more than oral tablets or capsules. Although intravenous glutathione offers higher therapeutic doses, enhancing its efficacy, it has a narrower margin of safety due to possible excess toxicity. Local injection of glutathione belongs to mesotherapy, which is mainly used to treat melasma.
Product Line
We implement strict management and control throughout the entire process from research and development, procurement of raw materials, production and input, to final product testing, packaging, delivery, and transportation. The entire production supply chain is traceable.
Why Choose us
1.OEM service professional design team
2.Professionally supplying natural food and cosmetics ingredients products
3.100% inspection before delivery
4.Inventory 24 hour delivery
5.Complete documentary system
F&A
1.Are you a manufacture or trading company?
We are manufacture,and we welcome to visit our factory.
2.How to confirm the product quality before placing orders?
You can check our COA,besides,we can also provide sample for you to test.
3.How is your quality control?
From the very beginning to the very end,National Commodity Inspection and Testing Bureau,Authority Third-party Testing institution,QA,ISO,Halal,Kosher,Guarantee our quality.