Glutathione is composed of glutamic acid, cysteine, and glycine, and has two forms, namely reduced glutathione (GSH) and oxidized glutathione (GSSG).
As the age increases, the GSH level of the human body decreases significantly after the age of 20 (or depending on the degree of environmental toxicity). The damage caused by free radicals will accelerate the damage of tissues and organs and the aging of the body. Therefore, maintaining a relatively high level of GSH in the body is helpful To delay aging from the perspective of anti-free radicals. Glutathione is not only an important functional molecule for cell detoxification, nucleic acid stabilization, and energy metabolism, but also an indispensable raw material for the normal operation of the immune system. Supplementing GSH can help restore the balance of the body's two immune systems and relieve chronic inflammation cycles .
S-Acetyl-L-Glutathione ( SAG) is a supplement that can be taken orally, absorbed directly in the form of glutathione, and does not have a pungent smell. SAG is a gluten that is superior to NAC Sutathione supplement is a compound modified by adding an acetyl group to the sulfhydryl group of GSH.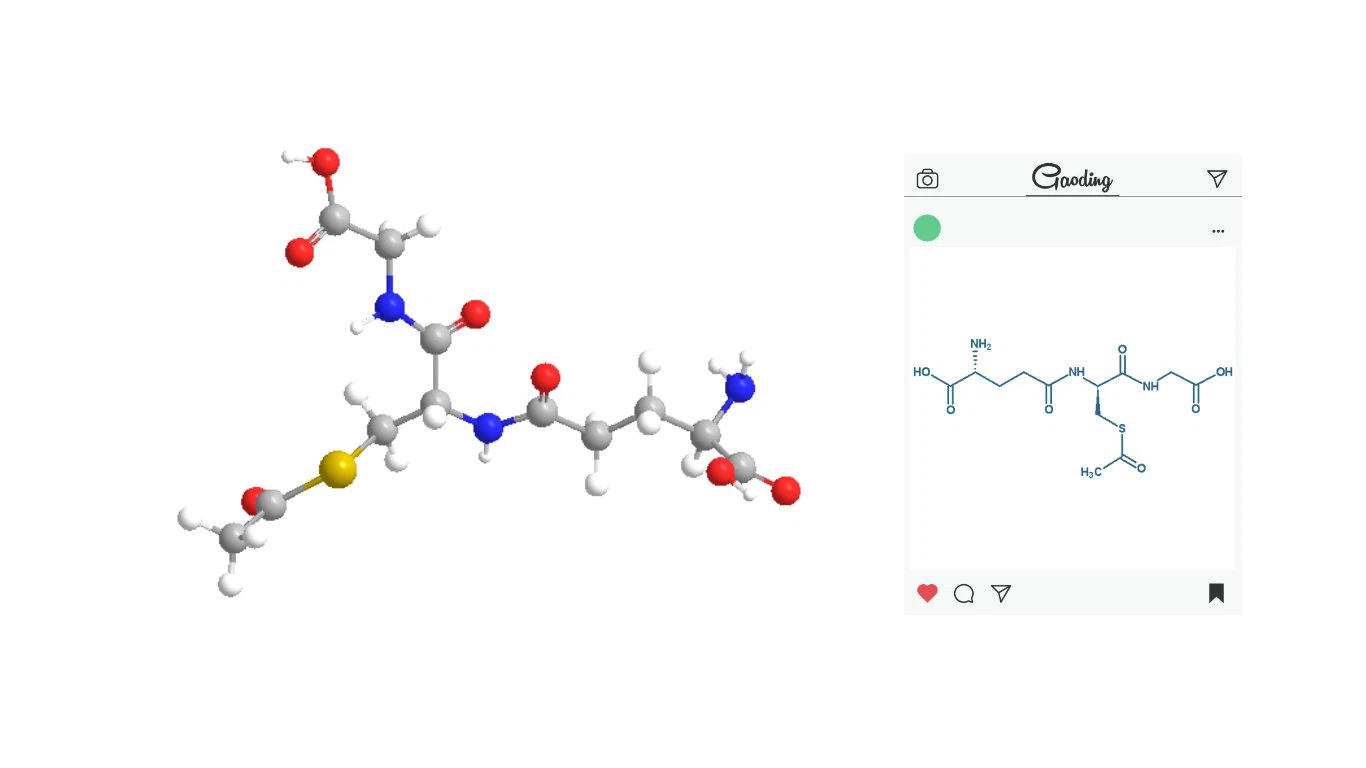 S-Acetyl-L-Glutathione(C12H19N3O7S)

CAS

3054-47-5

Appearance

White crystalline powder

Assay

98% up

Loss on Drying

not more than 0.5%

Heavy metals PPM

<10ppm
①Acetylation modification prevents SAG from being degraded by gastric acid when taken orally into the digestive tract, and the fat solubility is enhanced due to acetylation, which is completely absorbed by chylomicrons in the digestive tract, absorbed in the small intestine through the small intestinal villi, and then enters the blood circulation. Not degraded by peptidases in the blood, when entering cells, it is hydrolyzed by cytoplasmic thioesterases to produce reduced GSH through hydrolysis of the acetyl group, which can be used for all its required biological functions. In addition, studies have demonstrated that SAG crosses cell membranes more easily than GSH itself.
②Acetylation modification makes the obvious pungent smell of the sulfur atom on the GSH sulfhydryl group (-SH-) disappear. Compared with NAC, SAG no longer has the smell of rotten eggs, and the compliance of taking it is greatly improved.
Customer service
1. OEM Service/Door to door Service/Excellent After-Sale Service
2. International leading R&D Team
3. Perfect Quality Control System
4. Stable & Smoothly & Rapid Transportation System
5. Sample Order Acceptable
6. 24 Hours Service
Why Choose Us
1. Professional manufacturer
We are a production-oriented enterprise integrating biological research and production, specializing in the development of biological raw materials.
2. Own factory
We have our own factories and 3 production bases in Anhui Province and Jilin Province, China.
3. Strength
At the same time, we also have a R&D and quality inspection center in Beijing, with strong technical research and development capabilities.
4. Sales team
We have our own huge sales team, and professional sales staff provide the best service 24 hours a day.
Packing and transportation
Packing
25KG/Cardboard Durm,Inner by double plastic bag or Customized
Storage
Keep in cool and dry place, keep away from from strong light
Shelf Life
2 Years
Shipping

Abt 3 days By Express (DHL or FedEx)

Abt 7-10 days By Air From China Airport

Abt 10-15 days By Sea From China Seapot

Payment term
100% T/T ADVANCE