Glutathione is composed of glutamic acid, cysteine and glycine. The first peptide bond is different from ordinary peptide bonds. It is composed of the γ-carboxyl group of glutamic acid and the amino group of cysteine. The cysteine sulfhydryl group is the main functional group of this compound. As an antioxidant in animal cells, it exists inside water-filled cells and protects DNA from oxidation.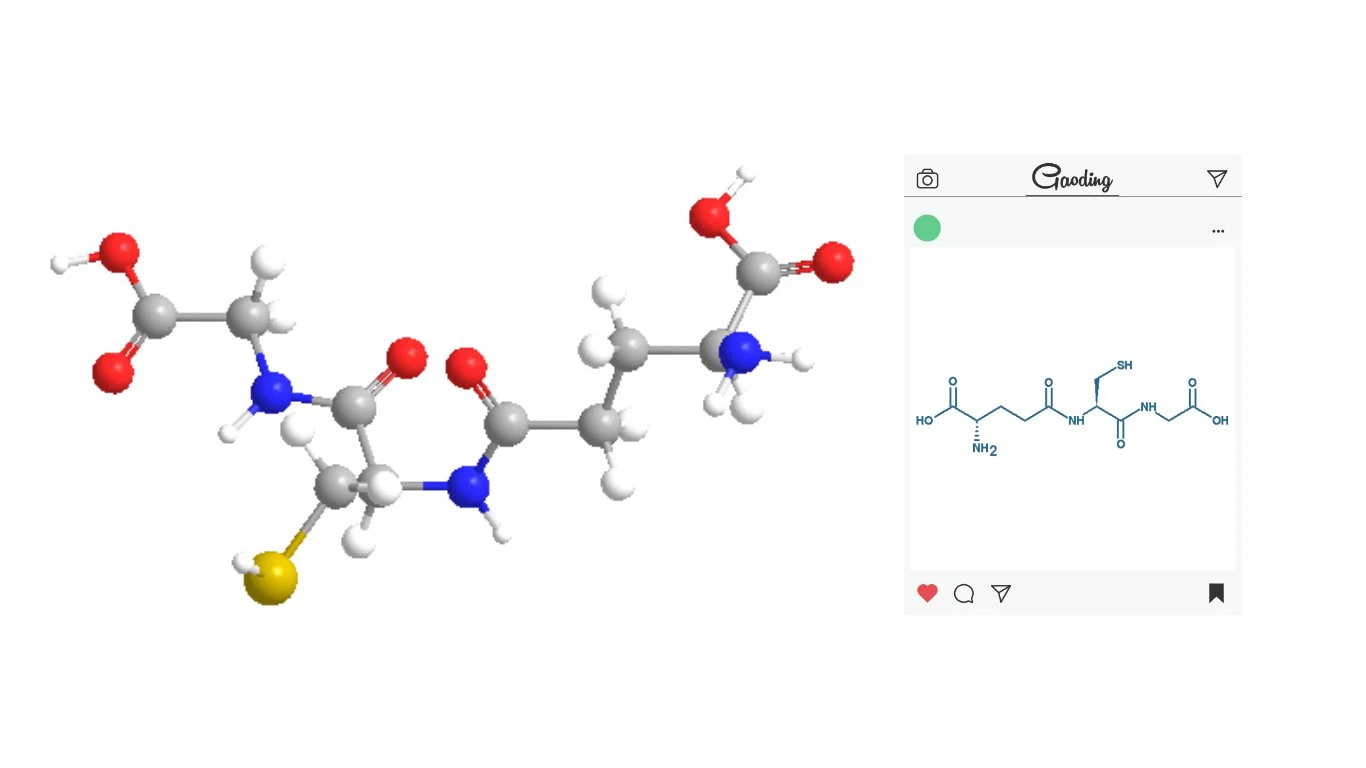 L-Glutathione Reduced(C10H17N3O6S)

CAS

70-18-8

Appearance

White or almost white powder

Assay

99% min

Chlorides

Not more than 200 ppm

Sulfates

Not more than 300 ppm

Ammonium

Not more than 200 ppm

Iron

Not more than 10 ppm

Arsenic

Not more than 2 ppm

Heavy metals

Not more than 10 ppm

Cadmium (Cd)

Not more than 1 ppm

Lead (Pb)

Not more than 3 ppm

Mercury (Hg)

Not more than 1 ppm

Sulfated ash

Not more than 0.1%

Loss on drying

Not more than 0.5%

Shelf Life

Two years when properly stored.
Since glutathione has the effect of whitening and lightening spots, since the 2010s, many merchants have added glutathione to skin care products or skin cleansing products, or made it into nutritional supplements.
Humans themselves are composed of large and small cells. It can be said that the human body is a kingdom of cells. Neutrophils, phagocytes, lymphocytes, etc. make up the immune system in the human body, so that the human body has a spontaneous immune ability, which can not only resist the invasion of foreign pathogenic substances such as bacteria, viruses, parasites, etc. , It can also solve the abnormal physiological changes in the body, such as the proliferation of cancer cells, so as to maintain the normal order of survival and protect the health of the body.
However, in order to maintain the normal operation of the immune system, immune cells must be fully activated and differentiated, and glutathione just plays the role of fully activation and differentiation of immune cells. When the intracellular glutathione concentration is maintained or higher than the normal level, various immune cells of the human body will be fully activated and differentiated, thereby enhancing the human body's immunity and preventing tumors, heart disease, premature aging, and autoimmunity. disease and various chronic diseases.
In a word, the effect of glutathione on human cells can be summed up in 8 words: inhibition, activation, repair and promotion.
Inhibition: inhibit cell changes and enhance human immunity;
Activation: activate cell activity, enhance human immunity, activate lymphocytes, differentiate and proliferate T cells and B cells in order to eliminate viruses or cancer cells;
Repair: Repair the degenerated cells of the human body and stabilize the internal environment;
Promote: maintain, improve and promote the normal metabolism of cells.
As an important antioxidant and free radical scavenger in the body, such as combining with free radicals and heavy metals, it converts harmful poisons in the body into harmless substances and excretes them out of the body.
Therefore, when using glutathione, it can be used in combination with vitamin C to improve its efficacy.