Jun 29, 2023 / Author: China Glutathione suppliers & NMN manufacturers
Citicoline, also known as cytidine diphosphocholine, is a mononucleotide composed of ribose, cytosine, pyrophosphate, and choline.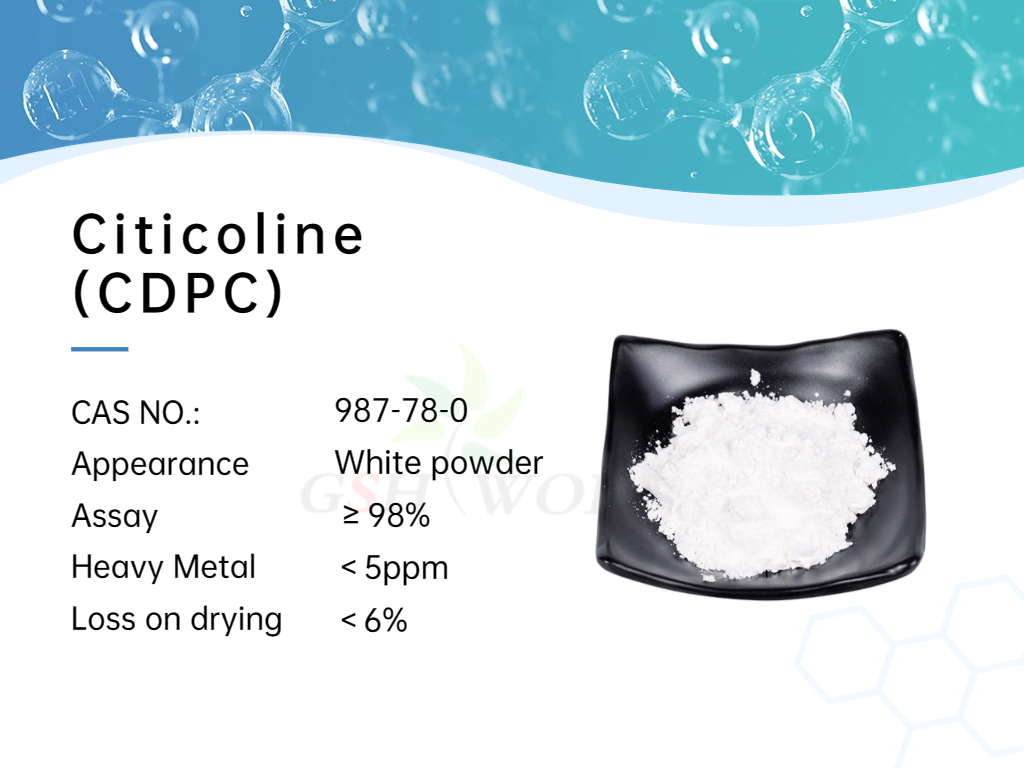 Clinical Application of Citicoline
1. Ischemic stroke
The pooled analysis by Sguyan and Wilterdink included 10 trials with a total of 2279 patients, 8 of which were conducted in patients with ischemic stroke and 2 in patients with cerebral hemorrhage. The pooled analysis showed that the long-term follow-up risk of death or disability in the oral or intravenous citicoline group was significantly lower than that in the placebo group (57.0% vs. 67.5%, OR=0.64, 95% C/O.54~0.5%. 77, P100) the results of 4 ischemic stroke patient trials were consistent, and the treatment effect was statistically significant: citicoline 574/1 048 (54.8%) versus placebo 500/773 (44.7%) ( OR=0.70, 95%C/0.58~0.85, P95 points).
2. Cerebral hemorrhage
Studies in animal models have demonstrated the therapeutic benefit of citicoline on intracerebral hemorrhage. To evaluate the safety and efficacy of citicoline in the treatment of patients with intracerebral hemorrhage, Secades et al conducted a pilot randomized double-blind placebo-controlled trial. Thirty-eight patients with cerebral hemorrhage within 6 hours of onset were randomized to receive citicoline (1 000 mg, orally) or placebo for 2 weeks. There was no significant difference in the incidence of adverse reactions between the two groups. One patient in the placebo group and five patients in the citicoline group were able to take care of themselves (mRS score ≤ 2 points) at 3 months after onset (OR=5. 38, 95% C/0.55-52.4). This preliminary trial shows that citicoline is a safe drug in patients with intracerebral hemorrhage and tends to increase functional independence in patients.
3. Cognitive impairment
Blocking phosphatidylcholine synthesis is sufficient in itself to cause cell death, and citicoline corrects the lack of phosphatidylcholine and phosphatidylethanolamine in the brain tissue of patients with Alzheimer's disease (AD). Brain cell membrane damage. In addition, AD patients have abnormalities in the function of the cholinergic nervous system, and citicoline can provide therapeutic effects by increasing the synthesis of acetylcholine. Animal experiments have confirmed that citicoline can resist intrahippocampus injection B. Amyloid-induced neuronal degeneration, significantly reduced number of apoptotic cells, and significantly improved memory preservation.
Currently, many studies have been conducted on the treatment of cognitive impairment with citicoline. A Cochrane review by Fioravanti and Yanagi, which included 14 trials with a total of 1051 patients, found evidence of at least short- to medium-term benefits of citicoline on memory, behavior and general function (but not attention).
4. Traumatic brain injury
Citicoline promotes memory recovery in traumatic brain injury patients by restoring blood flow to the site of injury. In a single-blind randomized trial, 216 patients with traumatic brain injury were randomly assigned to receive conventional treatment or conventional treatment + citicoline, and more patients in the citicoline group improved cognitive and motor functions, while the difference between the two groups There was no significant difference in fatality rate. A range of studies, including in patients with traumatic coma to post-concussion syndrome, have shown that citicoline is beneficial in the treatment of traumatic brain injury, including faster resolution of cerebral edema, earlier return to consciousness, shorter length of hospital stay, improved exercise and Restoration of memory function and improved quality of life.
5. Parkinson's disease
Parkinson's disease is characterized by selective degeneration of striatal and substantia nigra dopaminergic neurons. Citicoline increases tyrosine hydroxylase activity and increases dopamine release, and has been shown to be beneficial in several animal models of Parkinson's disease. Early, small, open-label and controlled trials suggested a potential benefit of citicoline in patients with Parkinson's disease. The combined application of levodopa and citicoline can significantly reduce the dosage of levodopa, thereby minimizing its adverse reactions. However, well-designed large-sample trials are still lacking.
6. Glaucoma and ischemic optic neuropathy
Glaucoma, the leading cause of blindness in the elderly, is a neurodegenerative disease characterized by apoptosis of retinal ganglion cells that may be mediated in part by ischemic damage to the retina and retroretinal structures caused by increased intraocular pressure. Parisi treated glaucoma patients with oral or intramuscular injection of citicoline for 60 days and applied graphic electroretinogram and visual evoked potential detection, and found that the retinal function and visual nerve pathway conduction function of the patients were significantly improved, and prolonged citicoline treatment for 8 Years can stabilize or improve visual dysfunction in glaucoma patients. Nonarteritic ischemic optic neuropathy is an ischemic injury to the optic nerve in the eye caused by chronic arteriolar disease.
A recent randomized, open-label trial in 26 patients found improved visual acuity and increased visual evoked potentials in the citicoline group. In addition, citicoline can also significantly improve the vision of amblyopia patients, and repair the optic nerve damage caused by various reasons, and has a definite effect on improving the optic nerve function of patients.
The effectiveness and safety of citicoline in the treatment of nerve injury has been confirmed by a large number of clinical practice and evidence-based medicine, and it has become a promising neuroprotective and neurorestorative drug.
Supplier Introduction: China glutathione supplier and NMN manufacturer GSHworld, the company mainly develops biotechnology and industrialization. As a global pioneer in enzymatic catalytic ATP regeneration technology, our company advocates green production and is committed to providing customers with better and more environmentally friendly products and services. Glutathione Manufacturer,NMN Factory,Citicoline Sodium supplier,China NMN manufacturers