Aug 03, 2022 / Author: China Glutathione suppliers & NMN manufacturers
Recently, the research team of Macau University of Science and Technology published research results in "Pharmacology Research & Perspectives". They studied the effect of NMN and some dietary supplements on NAD+ levels, including resveratrol and ginsenosides Rg3 and Rh2. The results show that Combined use of NMN can increase NAD+ levels in specific tissues and organs.
The researchers used 6-8 week old male mice and divided the mice into 4 groups, including (1) control group (2) NMN group (3) NMN and resveratrol combination group (4) NMN and ginseng. Saponin Rg3 and Rh2 combination group. The control group was orally administered PBS (phosphate buffered saline) twice, and the NMN group was orally administered with PBS once and then orally with NMN (500 mg/kg). The combination group was given oral resveratrol (50 mg/kg) or ginsenosides Rg3 and Rh2 (50 mg/kg), and then NMN (500 mg/kg).
Although NMN is rapidly metabolized in plasma (within 30 minutes), transformation in tissues usually takes longer. The researchers measured NMN concentrations in different tissues 1, 2, 4, and 6 hours after oral administration.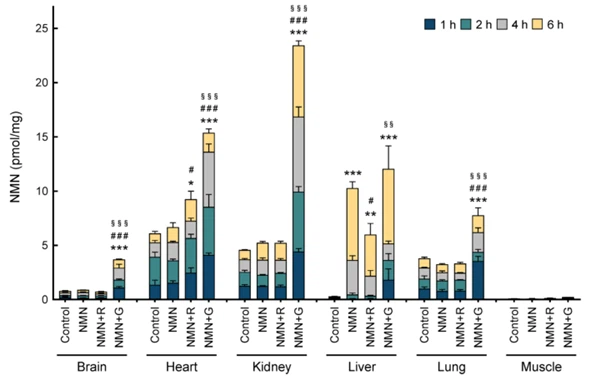 Distribution of nicotinamide mononucleotide (NMN) in different tissues of four groups of mice
After NMN alone, NMN was mainly enriched in the liver. When combined with resveratrol, the concentration of NMN in the liver decreased and the level in the heart increased by 1.39 times. When used in combination with ginsenosides Rg3 and Rh2, the distribution efficiency of NMN in the brain, heart, kidney, and lung was significantly improved, which were increased to 4.14, 2.31, 4.47, and 2.39 times, respectively, indicating that the combination of NMN can improve the distribution of NMN in tissues.
It is well known that NAD+ acts as a direct precursor of NMN. After oral administration of NMN alone, the NAD+ levels in the liver and kidneys are significantly increased, indicating that NMN supplementation can improve the energy metabolism of liver and kidney tissues.
Surprisingly, the combination of NMN and resveratrol increased cardiac and muscle NAD+ levels by 1.59-fold and 1.72-fold, respectively, compared with NMN alone, and increased cardiac NAD+ levels could reduce cardiac hypertrophy, Protecting the heart, increased muscle NAD+ levels can reduce muscle damage, inflammation and fibrosis. When NMN was combined with ginsenosides Rg3 and Rh2, the NAD+ level in lung tissue was significantly increased to 1.97 times, which means that combined use with ginsenosides can reduce the damage to the lungs caused by cigarette smoke.
Previous studies have reported that resveratrol can induce p53 activation, ginsenosides can improve the stable binding of p53 to DNA and regulate the expression of downstream proteins, and NMNAT2 is a downstream target gene of p53. Therefore, the researchers speculated that oral administration of ginsenoside Rg3 And Rh2 or resveratrol can improve the function of p53, thereby enhancing the expression of NMNAT2, thereby indirectly increasing the level of NAD+.
This study suggests that we can use NMN in combination with other substances to increase NAD+ levels in specific organs to treat age-related diseases in specific organs.
Supplier Introduction: China glutathione supplier and NMN manufacturer GSHworld, the company mainly develops biotechnology and industrialization. As a global pioneer in enzymatic catalytic ATP regeneration technology, our company advocates green production and is committed to providing customers with better and more environmentally friendly products and services. Glutathione Manufacturer,NMN Factory,Citicoline Sodium supplier,China NMN manufacturers