Sep 02, 2022 / Author: China Glutathione suppliers & NMN manufacturers
Nicotinamide adenine dinucleotide (NAD+) is an essential coenzyme for metabolic activity, and reduced intracellular levels contribute to various age-related diseases and metabolic abnormalities. In vivo and in vitro studies have shown that increasing certain NAD+ levels in cells or tissues by supplementing the NAD+ precursor Nicotinamide Mononucleotide (NMN) can alleviate age-related diseases and metabolic disorders.
In recent years, several clinical trials have been conducted to elucidate the efficacy of NMN in humans. However, previous NMN clinical studies have not reported the safety of repeated daily oral doses of ≥ 1000 mg/time in healthy adult men and women, and human clinical trials on the safety of NMN are limited.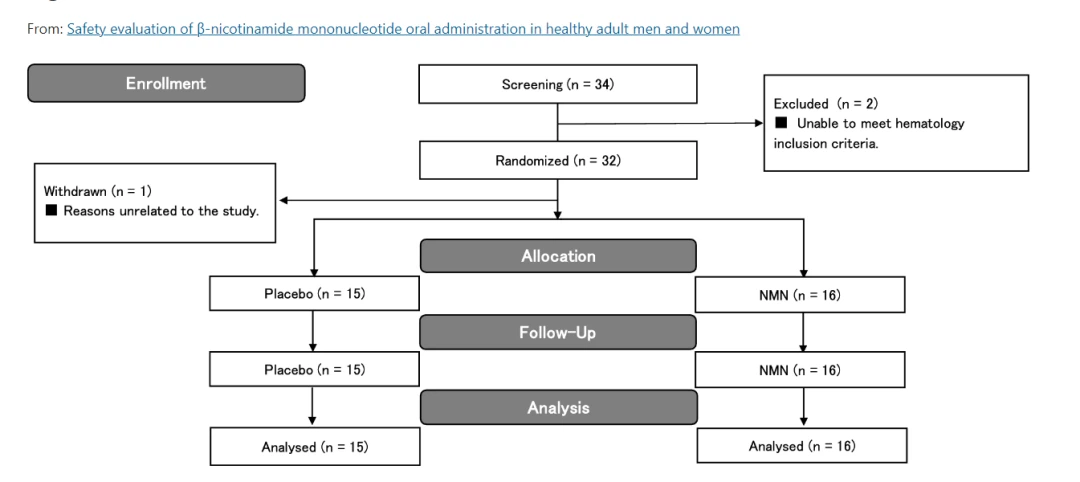 A randomized, double-blind, placebo-controlled, parallel-group study was recently conducted in Japan to evaluate the efficacy of 1250 mg β-NMN administered orally once daily for up to 4 weeks in 31 healthy adult men and women aged 20-65 years. safety.
In this study to assess the safety of NMN ingestion in healthy adult men and women, 32 healthy men and women between the ages of 20-65 were screened and selected as study subjects. The male-to-female ratio was 14 males and 18 females. Since one subject withdrew for reasons unrelated to the study before the start of the study, the final number of subjects was 31. During the study period, 1250 mg of NMN was orally administered once a day for a long period of time. up to 4 weeks.
Results of hematology, clinical biochemical tests, urinalysis, and analysis of body composition and vital signs were found to be within clinical laboratory reference values for both the NMN and placebo groups in the project experiment. In this study, no adverse physical effects were observed even after repeated oral administration of 1250 mg of NMN once daily for 4 weeks
Supplier Introduction: China glutathione supplier and NMN manufacturer GSHworld, the company mainly develops biotechnology and industrialization. As a global pioneer in enzymatic catalytic ATP regeneration technology, our company advocates green production and is committed to providing customers with better and more environmentally friendly products and services. Glutathione Manufacturer,NMN Factory,Citicoline Sodium supplier,China NMN manufacturers