NMN is also known as β-Nicotinamide Mononucleotide. NMN is the precursor of NAD+ (coenzyme I), and its function is reflected by NAD+. NAD+ is not only an important raw material for the DNA repair system, but also a key link factor between the nucleus and mitochondria. Its content is closely related to the activity of factors that can prolong life and inhibit aging in the human body. NMN can regulate mitochondrial function and reduce the secretion of cytokines, thereby inhibiting the inflammatory response, and these factors are related to cell aging and disease occurrence. NMN is a compound with the potential to extend life and improve health.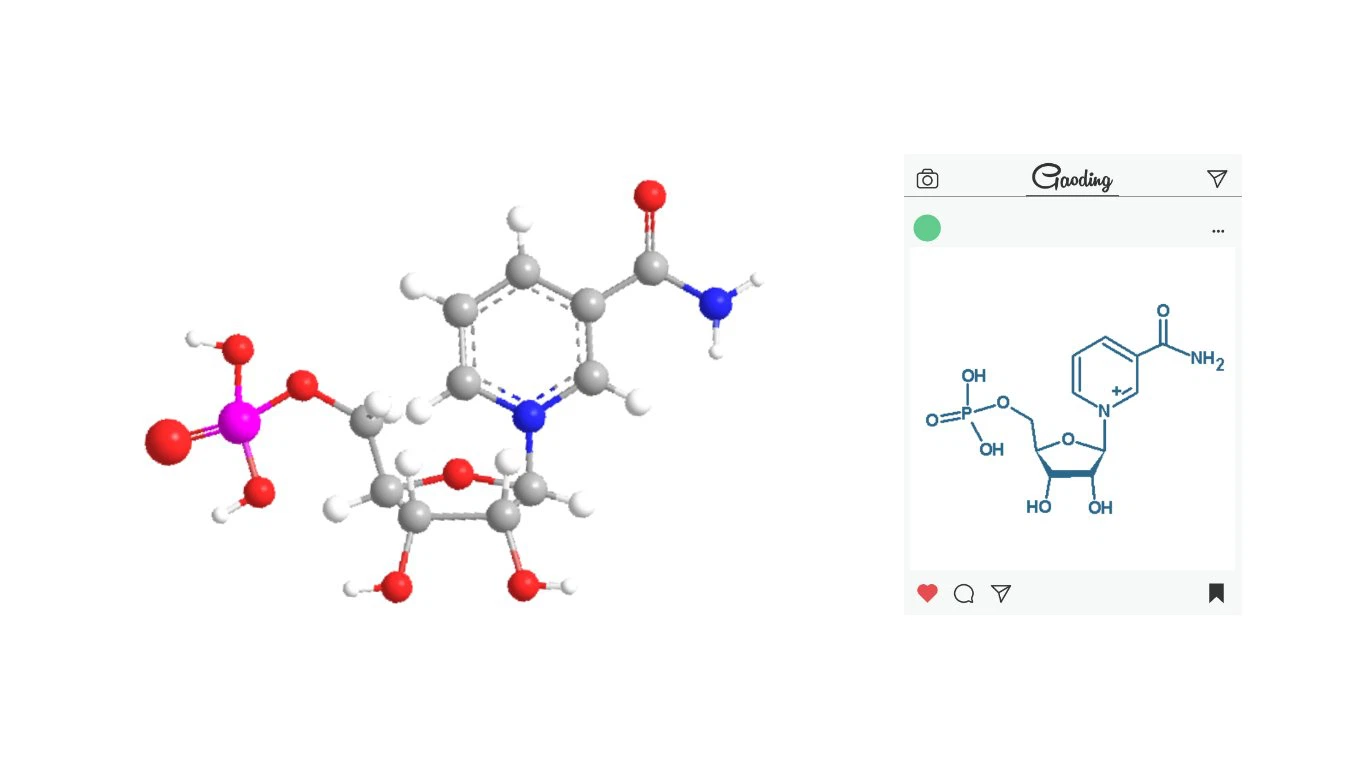 Bulk Powder Nicotinamide Mononucleotide(C11H15N2O8P)

CAS NO.

1094-61-7

Appearance

White or almost white powder

Assay

99% min

Loss on drying

Not more than 0.5%

Heavy Metal

Not more than 10ppm

Chlorides

Not more than 200 ppm

Sulfates

Not more than 300 ppm

Iron

Not more than 20 ppm

Arsenic

Not more than 1 ppm

Bulk density

Not less than 0.15g/ml

Shelf Life

Two years when properly stored.
How does NMN prevent aging?
1. It can reverse the functional decline of the "cell generator" mitochondria, and restore the aging physiological indicators of old mice to a young state
2. By increasing the level of NAD+, it can delay aging and improve the body's immunity
3. Aging can be delayed by activating SIRT1 protein
4. Can enhance metabolism and delay aging
5. Can improve metabolism and slow down aging
Does NMN reverse skin aging?
When people are young, the NAD+ coenzymes in the body will continuously transport nutrients to the skin, thereby ensuring the skin's metabolism and ability to repair the skin. Moreover, after the reduction of NAD+ coenzyme in the human body, the delivered nutrients cannot meet the repair and work of the skin, so problems such as wrinkles, dark spots, and sagging skin begin to appear. NMN is the precursor of NAD+. NMN accelerates the increase of NAD+ levels in the human body, repairs damaged cells, and achieves the anti-aging effect of improving body functions, reducing skin aging and damage, and maintaining a youthful state.
Is NMN the best anti-aging?
At present, nmn is the best NAD+ supplement. NMN has a unique instant transport system. Compared with other forms of supplements, NMN can be quickly absorbed by the intestine within 2-3 minutes, and it can more effectively supplement NAD+. Additionally, NMN is more stable than other supplements in terms of chemical and physical properties. NMN powders at room temperature are stable for long-term transportation and storage. From the second half of 2018, NMN became more popular than other NAD+ supplements. Customers have more choices when purchasing NMN supplement products in various forms such as powders, tablets, capsules, sprays, etc.
About us
GSH BIO-TECH is an innovative high-tech enterprise with enzyme catalysis technology in the field of synthetic biology as the core and cross-application of multidisciplinary technologies.The company's main products are glutathione (GSH), β-nicotinamide mononucleotide and Citicoline sodium (CDPC), Should you have interests in us, please don't hesitate to get in touch with us,we will be pleased to supply any further information you require.
Product Line

Purchase Notes
COMPETITIVE PRICING : The digital factory establishment, strong production capacity and labor cost saving make our prices competitive in the industry.
UNMATCHED QUALITY :They take quality as our life. They strictly control the quality of each process and establish a complete quality control system. We promise to bring best quality products to customers.
TRANSPORT CAPACITY :There have professional freight agents, customs clearance agencies set up in the destination. Deliver your package safely.
According to the customer's transport needs can choose: FEDEX UPS TNT DHL air charter and sea.
FAQ
Q: Do you have the test and audit service?
A: Yes, we can assist to get the designated test report for product and the designated factory audit report.
Q: What's is your shipping service?
A: We can provide services for vessel booking, goods consolidation, customs declaration, shipping documents preparation and delivery bulk at the shipping port.
Q: What's your term of the delivery?
A: Our ordinary delivery term is FOB Shanghai. We also accept EXW, CFR, CIF, DDP, DDU etc. We'll offer you the shipping charges and you can choose the one which is the most convenient and effective for you.
Q: Which shipping way can you provide?
A: We can provide shipping by sea, by air and by express.
Q: What's your after-sale service?
A: Our quality warranty period is two year. Any quality problem will be solved to customer satisfactions.