The structure of glutathione consists of glutamyl-cysteine-glycine. Two molecules of GSH can participate in GPX-catalyzed reactions to form disulfide cross-links through reduction reactions. The resulting substance, oxidized glutathione, can be reduced to its original form by glutathione reductase via S-NADPH. In addition to its role as a cofactor, GSH can also directly react with free radicals such as HO, alkoxy radical (RO), and ROO.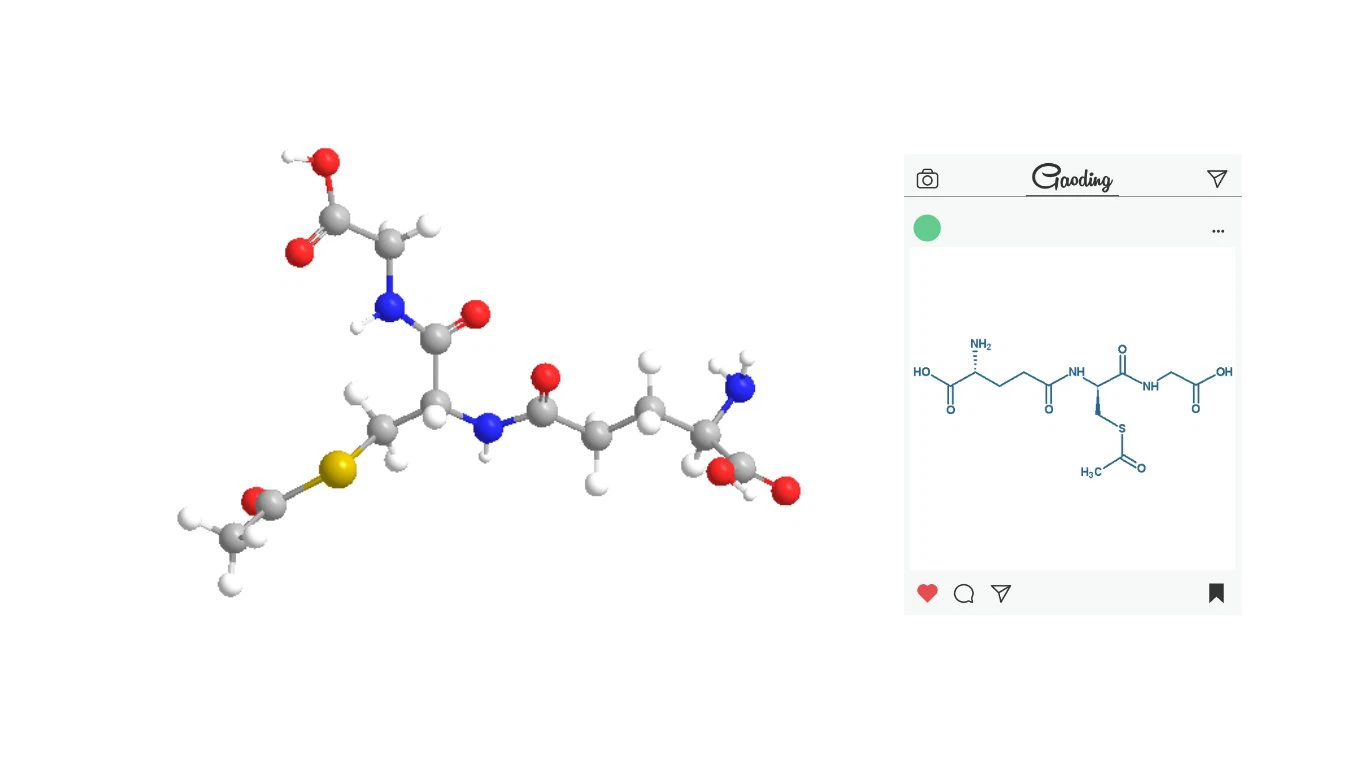 S-Acetyl-L-Glutathione(C12H19N3O7S)

CAS

3054-47-5

Appearance

White or almost white, crystalline powder

Assay

≥98.0%

Heavy metals

Not more than 10 ppm

Sulfated ash

Not more than 0.2%

Loss on drying

Not more than 0.5%

Application

Raw material、medicine

Shelf Life

24 months when properly stored.
Literature has shown that low glutathione levels are associated with melanin deposition in the skin of humans and other animals, whereas high glutathione levels can inhibit melanogenesis. It has also been reported that glutathione depletion increases tyrosinase activity in human melanoma cells. Reduced glutathione is rapidly depleted in melanocytes and keratinocytes upon exposure to ultraviolet light, such as UVA. Matsuki et al reported that glutathione had a dose-dependent inhibitory effect on melanin synthesis in tyrosinase and levodopa responses. From the above experimental results, glutathione still plays an important role in whitening.
Effect
1. Lighten pigment
The precipitation of melanin is an important cause of skin spots. Glutathione comprehensively inhibits the production of melanin, decomposes existing melanin, prevents the formation of melanin precipitation, and comprehensively fights against melanin, thereby preventing the generation of pigment spots and gradually removing the original color. spot.
2. Enhance skin elasticity
Continuous supplementation of glutathione can provide a good growth environment for new muscle cells. Therefore, the proportion of new muscle cells in the epidermal cells of the skin increases, which has a good comprehensive moisturizing effect, making the muscle cells healthier. The skin will become smoother and more elastic after drinking enough water to get rid of the yellow gas.
3. Comprehensive anti-aging
Glutathione can effectively delay cell aging and accelerate cell regeneration. Thereby delaying the aging process of the entire human body. Supplementing glutathione can increase or promote the secretion of human growth hormone (intermediate), which can regulate and slow down the shortening of telomeres, prolong cell lifespan, and effectively resist aging.
4. Liver protection, detoxification, liver protection
The liver is the organ with the most abundant glutathione and the most important detoxification organ. Glutathione can bind and eliminate heavy metals and carcinogens in the body, so that its toxicity is inhibited. Glutathione and toxins are combined with toxins and decomposed outside the cell, entering bile and urine for excretion. It can effectively expel toxins from the body, nourish the liver and protect the liver.
5. Improve human immunity
To maintain the normal work of the immune system, immune cells must be fully activated and differentiated, and glutathione is playing a role in the full activation and differentiation of immune cells. Supplementing a sufficient amount of glutathione to improve immunity can better protect our health from the invasion of foreign pathogenic substances.