Properties and functions of glutathione Glutathione (GSH) is a tripeptide compound formed by the condensation of glutamic acid, cysteine and glycine through peptide bonds. It is a versatile active short peptide with a molecular weight of 307 .33, the melting point is 189~193℃, and the appearance is colorless transparent slender granular crystal. GSH widely exists in baker's yeast, wheat germ, animal liver, chicken blood, pig blood, tomato, pineapple, and cucumber. Among them, wheat germ and animal liver are the highest, with a content of 100-1000mg/100g.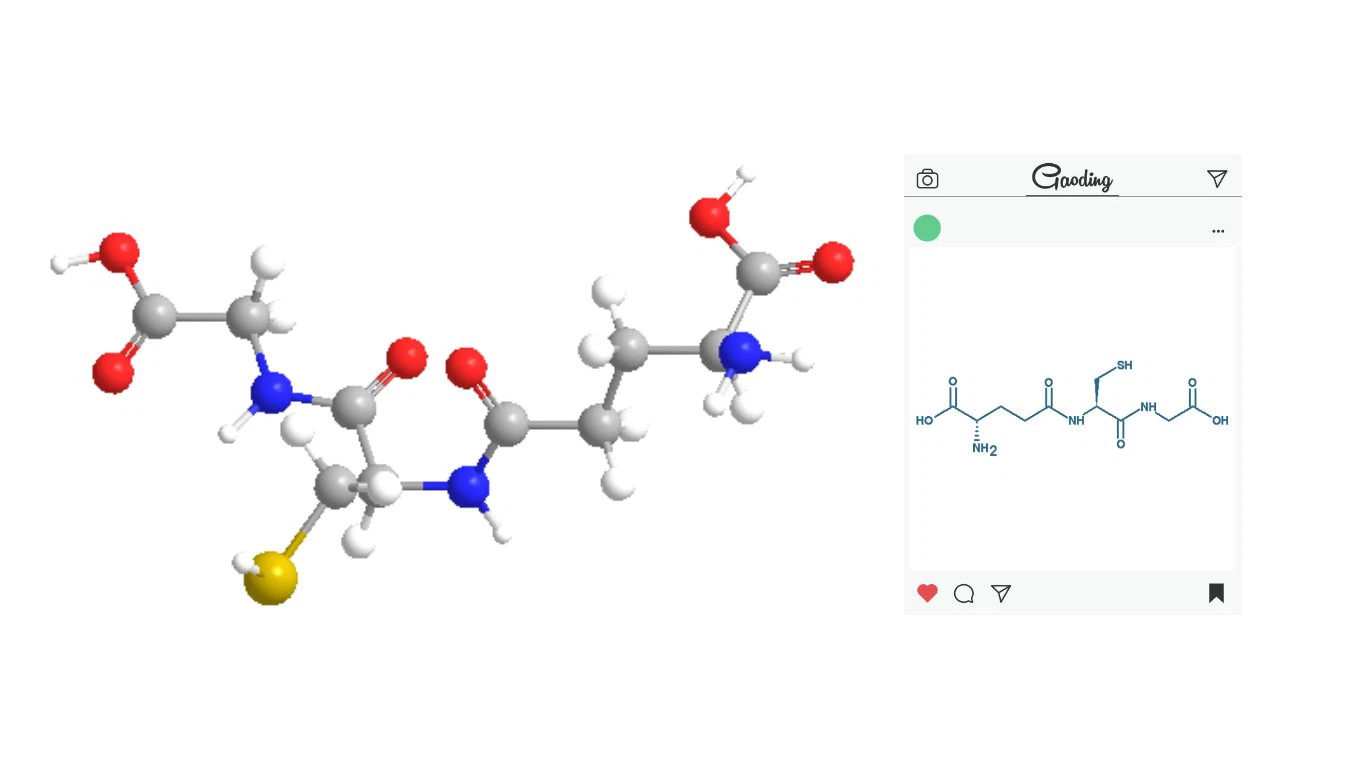 L-Glutathione Reduced(C10H17N3O6S)

CAS

70-18-8

Appearance

White or almost white powder

Assay

99% min

Chlorides

Not more than 200 ppm

Sulfates

Not more than 300 ppm

Ammonium

Not more than 200 ppm

Iron

Not more than 10 ppm

Arsenic

Not more than 2 ppm

Heavy metals

Not more than 10 ppm

Cadmium (Cd)

Not more than 1 ppm

Lead (Pb)

Not more than 3 ppm

Mercury (Hg)

Not more than 1 ppm

Sulfated ash

Not more than 0.1%

Loss on drying

Not more than 0.5%

Shelf Life

Two years when properly stored.
Glutathione is soluble in water, dilute alcohol, liquid ammonia, dimethylformamide, but insoluble in ethanol, ether and acetone. When solid, its properties are stable, and its aqueous solution is easily oxidized to oxidized glutathione (GSSH) in the air.
Glutathione has the functions of anti-oxidation, scavenging free radicals, detoxification, enhancing immunity, anti-aging, anti-cancer, and anti-radiation hazard. It is an important functional factor and is widely used in the food industry and pharmaceutical industry.
GSH contains active sulfhydryl-SH, which can reduce the H2O2 generated by the metabolism of human cells to H2O and remove free radicals in the human body. Free radicals can damage cell membranes, promote aging, and induce tumors or arteriosclerosis. GSH has an anti-peroxidation effect on human cells, and can also improve the antioxidant capacity of the skin, making the skin shiny.
Glutathione has the function of eliminating the generation of oxidized lipids, and has anti-oxidative effects of oil and fat, and can also prevent the presence of flavor nucleotides (inosinic acid, guanylic acid) in foods (fish cakes, sausages, soy sauce, etc.). Flavor nucleotides decompose and lose the umami flavor. In addition, it can enhance food flavor and greatly extend the shelf life of food.
Anti-browning agent glutathione has the function of preventing pigmentation, which can prevent skin aging and pigmentation, and reduce the formation of melanin. Adding glutathione to canned fruit can prevent fruit browning; adding it to dairy products can effectively prevent enzymatic and non-enzymatic browning.
The addition of glutathione additive, a quality improver of pasta, to the dough can shorten the kneading time of the dough. Even after the kneading is finished, it will not affect the fermentation after thawing if it is stored for a certain period of time, so as to produce high-quality bread. Glutathione also strengthens the role of amino acid nutrition.
Meat flavor and other fortifiers glutathione, coexistence with deacidification, sodium L-glutamate, and xylose will produce very good beef flavor when heated; When mixed with sodium glutamate, a strong meat flavor is created. It can be used as flavoring agent and flavoring agent in various processed foods. Glyathione is also added to meat products, cheese and other foods to enhance the flavor effect.