Sep 11, 2023 / Author: China Glutathione suppliers & NMN manufacturers
NMN 2023 human trial study results
1. NMN can reduce weight, cholesterol and blood pressure in overweight people (human trial)
Researchers from Harvard Medical School published a study in the Journal of Clinical Endocrinology and Metabolism, which showed that NMN can reduce total cholesterol, including LDL cholesterol, while also lowering blood pressure. Researchers gave 1,000 mg NMN twice a day to middle-aged and older overweight and obese adults for 28 days. It was found that participants who took NMN lost at least 6 pounds compared to those who did not take NMN. At the same time, blood cholesterol levels were checked and it was found that NMN reduced total cholesterol and low-density lipoprotein cholesterol levels and improved heart function.
2. NMN can improve the sleep quality of middle-aged and elderly people (human trial)
Sleep has different sleep states such as light sleep, deep sleep, rapid eye movement sleep (REM), etc. However, the quality of sleep will decline with age, leading to a variety of aging-related diseases.
A research team from the Southern University of Science and Technology of China published an article in the American Journal of Translational Medicine and found that NMN can cope with the decline in sleep quality and improve insomnia. The research team conducted a 12-week PSQI test on the sleep status of 29 middle-aged and elderly people aged 45 to 75 years old. The results found that compared with subjects who did not take NMN, the subjects who took NMN had better scores in the assessment. Obvious high score. And the time to fall asleep (sleep latency) also improved in the NMN group. At the same time, the sleep status detected by the smart bracelet (Huawei Band 6) was analyzed, and the deep sleep period and rapid eye movement sleep time at night in the NMN group were significantly increased.

Image: The NMN group had significantly lower Pittsburgh Sleep Quality Index (PSQI) total scores compared with the control group
3. Fingerstick blood test shows differences in NAD+ in gender and age (human trial)
Human NAD+ levels show great heterogeneity, especially for those who do not respond well to traditional NAD+ supplementation therapies. The lack of rapid and low-cost detection methods greatly limits the establishment of NAD+ baseline and personalized supplementation.
The research team developed an automated NAD+ analyzer that uses a recombinant bioluminescent sensor protein and an automated optical reader to quickly measure NAD+ levels in 5 μL of fingertip blood. The technology's minimally invasive analysis allows for frequent and decentralized mapping of real-world NAD+ dynamics. Further revealing the long-term stability of human NAD+ baselines over 100 days, we identify the major real-world behaviors that affect NAD+ levels.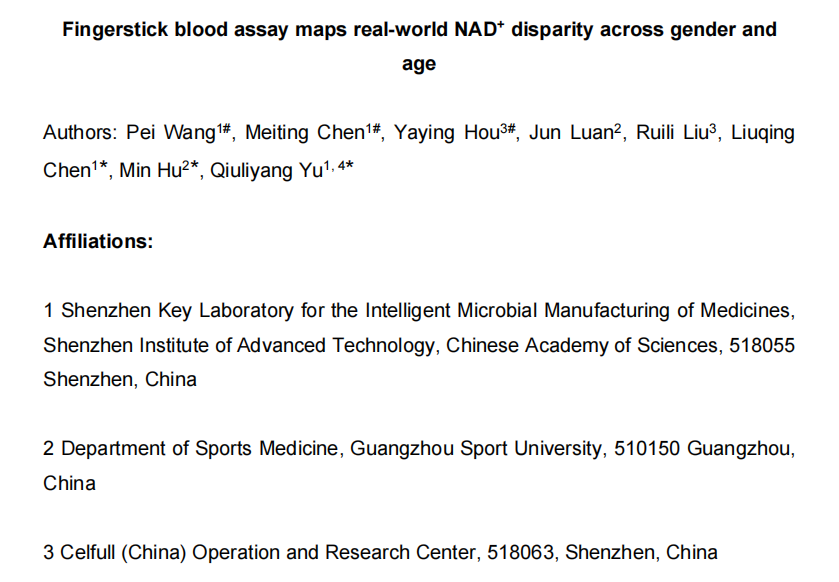 Figure: Experimental process and results
4. NMN can increase serum insulin levels (human trials)
Researchers from Osaka University in Japan published a study in Clinical Nutrition ESPEN showing that NMN can improve metabolism, cardiovascular disease, neurological health, and muscle insulin sensitivity in women with early-stage diabetes. At the same time, it increases the NAD+ level in the blood and enhances body functions. Researchers used NMN in 11 healthy adults, taking 250 mg NMN daily for three months. The results showed that serum insulin levels increased five-fold, and NMN levels in plasma also increased significantly.
Supplier Introduction: China glutathione supplier and NMN manufacturer GSHworld, the company mainly develops biotechnology and industrialization. As a global pioneer in enzymatic catalytic ATP regeneration technology, our company advocates green production and is committed to providing customers with better and more environmentally friendly products and services. Glutathione Manufacturer,NMN Factory,Citicoline Sodium supplier,China NMN manufacturers